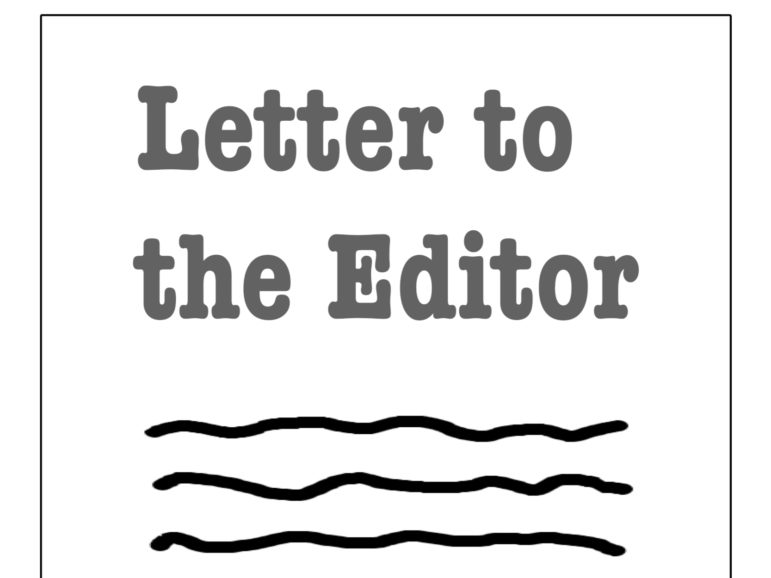 The immediate spur for this letter is the board of health's new order reinstating the indoor mask mandate. I have found it a big source of frustration this entire pandemic that it has often not been all that clear what the rules actually are.
I appreciate that the town's website currently has on the front page the new mask mandate, but how long will this stay up there? Given that a mask mandate is such a sharp difference from everyday life as of 2019, whatever rules we want everyone to follow we should be shouting from the proverbial rooftops. Why can't we have a permanent feature on the homepage, as well as on any interactive town signage and posted all over town, something like the following: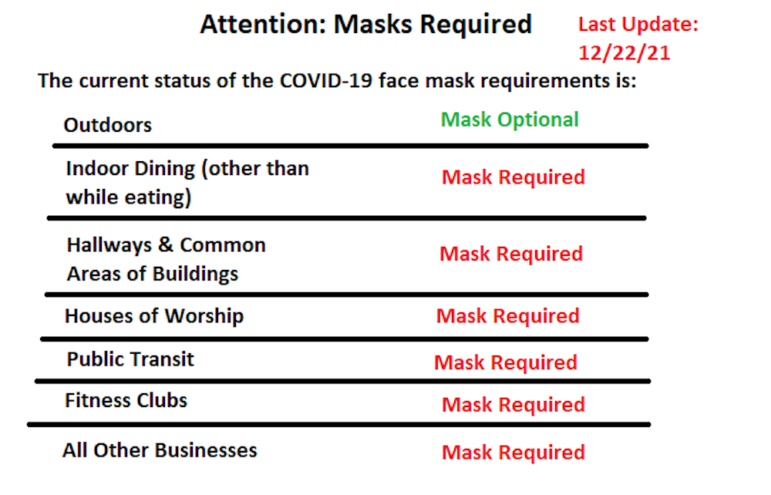 The "Last Update" part is important, because I found it just as frustrating to discover when requirements were removed as to confirm when they were still in place. The bottom line is, if there's any hope of people following these sorts of public health mandates, it should be really, really easy for anyone to actually know what the mandate is. The Parks department in particular, has been slow at this. They admirably posted their rules on the park entrances, like so: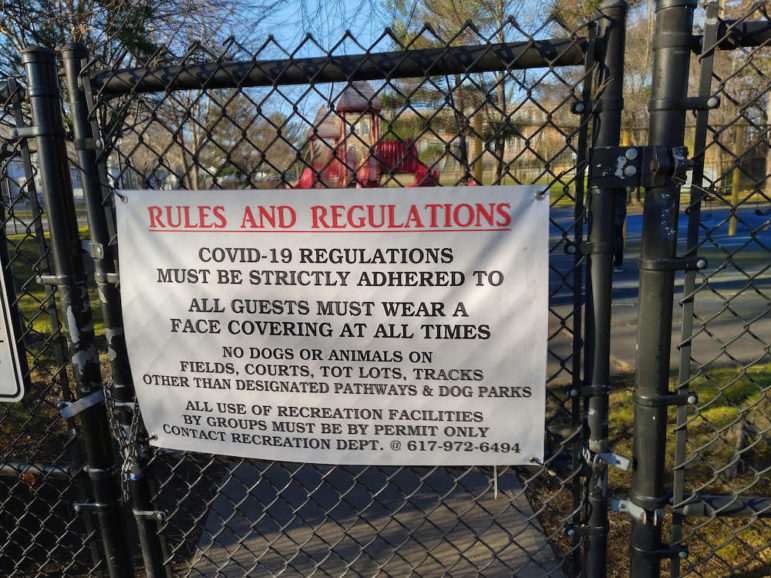 However, these signs remained up long long after the actual outdoor mask mandate was rescinded. I actually had to call the parks department to confirm that, after Governor Baker rescinded the outdoor mask mandate, the town wasn't seeking to continue enforcing one. Not only were the signs still up (and are still up today), the town's website still listed the Board of Health as having an outdoor mask mandate when it did not. Outdated websites and signs proclaiming no-longer-existing rules are in some ways even more damaging than a lack of signs for new rules — everyone I've ever seen at the playgrounds has become used to ignoring the outdated signs. This is a good thing, since the sign proclaims a fake rule. But if the town ever wants people to heed such signs in the future, it's really important to take them down when they are no longer in effect. Does the town maintain any record of where town-owned signs are posted, and what they say? I wonder how many signs around town give incorrect information about these issues.
Further, I hope that the Board of Health, Parks Department, and other bodies think hard about what rules they are actually willing to enforce at least to some extent. I have been frustrated at what seems like a common equilibrium where some board enacts a strict rule, that everyone kinda knows is too strict, but figures it's OK because "everybody knows" that the rule doesn't really mean what it says. But this is actually really bad for four reasons. First, not everybody actually knows that the rule doesn't mean what it says, and for those that are less plugged in, the over-strict rule can cause a lot of hardship. Second, the rule acts as a kind of tax on cooperative people, stressing them out while not actually getting whatever benefits would be achieved by everyone following the rule. Third, having a lot of rules that "everybody knows" aren't real can, over time, systematically undermine people's respect for rules in general, and will eventually make it very difficult to make any new rule stick. And fourth, these kinds of fake rules lodge a lot of arbitrary power in enforcers, allowing them to pick and choose who to target for other (maybe not so nice) reasons, rather than enforcing the rule evenhandedly on anyone who violates it.
Now, I understand that cases and hospitalization are rising sharply at the moment, so I do support the reinstated mask mandate for now. I think the cases number at this point is probably far less relevant than the hospitalization number, but I don't want anyone to take this letter as opposition at this time. But I urge all of our leaders to take time periodically to carefully think about existing rules and new rules often with this in mind, continually asking:
• What are the benefits of creating or maintaining this particular rule, specifically?
• Are we willing to (continue to) actually enforce this rule, and what are the social costs of doing so?
• How can we make sure that everyone affected by this rule knows about it?
• What changed circumstances would lead us in the future to reevaluate this rule?
• When the rule is eventually changed, how will we communicate the change? What signage will we need to alter or take down?
Thanks and I hope everyone has a happy holiday.
Matt Lashof-Sullivan
Molloy Street