The new owners of the Crown Cafe invested tens-of-thousands of dollars into the space on Main Street and the restaurant began serving food in January. Just a few months later they worry whether their investment will be for nothing, and the space where their business sits may be demolished to make way for a proposed five-story mixed use development near Watertown Square.
One hope for the owners may be a grassroots effort started to try to stop the development by making the area a historic district.
Zahra "Sara" Rafiei moved to Watertown from Iran, where she ran two medical businesses — a genetics lab and a medical lab. She has two doctorate degrees, so running a restaurant was not her original plan.
"I didn't have any plan to open a restaurant, but had a chance to cook for my family, my friends, some American friends," Rafiei said. "They suggested to me, why don't you open your own restaurant here?"
In 2021, she ran across an advertisement online for a restaurant for sale in Watertown, just a few minutes walk from where she lives. She decided to buy the Crown Cafe at 106 Main St. and had hopes of making a seamless transition from the former owners without closing the business.
Due to state health codes, and local zoning requirements that was not possible, said her son Sep Madani, who is taking a year off from studying computer science at UMass Lowell to help run the Crown Cafe. A lot of things in the restaurant had been grand-fathered in, such as the fire suppression system. They spent about $30,000 on upgrades, and Rafiei had to sell her house in Iran to buy the business and do the upgrades.
After the work was done, they received their permit from the Watertown Health Department and opened in January 2022. They closed briefly in April after Rafiei injured her arm. That's when they got some surprising and concerning news, Madani said.
"Around the same time one of the customers called and asked me, 'Are you closed because of what they are doing here? Developers have plans all set up to tear the whole building down,'" Madani said.
That was the first time they had heard about the project, which was filed with the City of Watertown in April. The five-story building in the proposal would have four floors of residential units above retail on Main Street. It would also impact the location of the downtown Post Office, and includes parcels on Pleasant Street and Cross Street, as well.
Typically developers honor the leases of businesses if they redevelop a property, or reimburse them for their investment. However, Rafiei is leasing the Crown Cafe spot on a month-to-month lease, and said she was encouraged by the property manager to do so.
"I told them what kind of lease is this? They said because of COVID it is (to) your benefit, because if COVID is extended and you cannot work, for this reason we cannot ask you for money. If you have a long-term lease you have to pay rent," Rafiei said. "Now, I think this is deceiving."
Madani reached out to the property managers about the lease, and the developers to find out about the future of the Crown Cafe's space.
"Did the owners know they were going to do this when they were negotiating with us?" Madani said. "When I contacted the managing person, she claimed the first time she knew about this was when I told her over the email."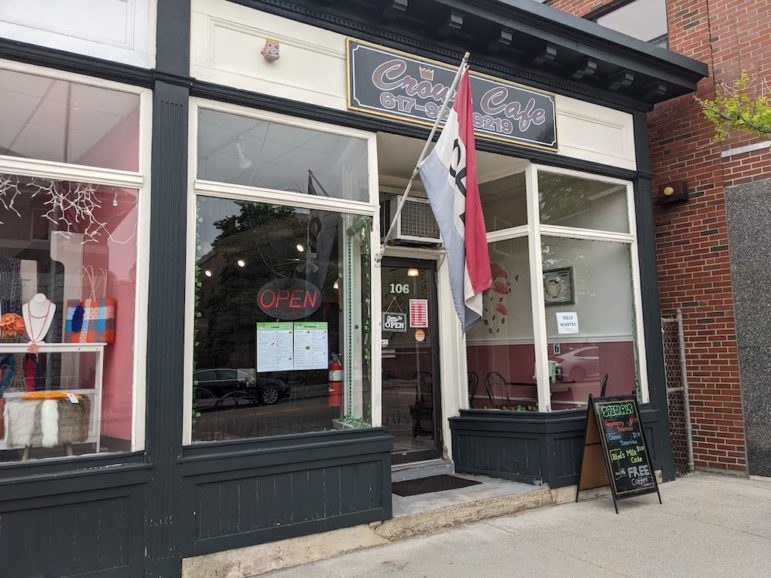 When Watertown News contacted Eastport Real Estate Services in Auburn, which manages the property, a representative said they were unable to comment because it is a private matter between landlord and tenant.
Madani tried to contact the developer, O'Connor Capital Partners in New York City, by email and phone, but has not received any response. Efforts by Watertown News to contact O'Connor were unsuccessful.
Rafiei worries that she will lose her investment because no one would want to purchase the business if it could be demolished, and much of the equipment installed at the restaurant could not be moved to a new space.
"It's not fair because I brought my money here to invest here, I didn't borrow any money," Rafiei said. "I just worked. I am an honest person, an educated person."
Petition
The news of the proposed project on Main Street grabbed the attention of former Watertown Council President Clyde Younger, who said he believes the size of the project does not fit with other buildings in the area.
"It would overwhelm the Town Hall and everything else in the area," Younger said. "That doesn't really make sense to anybody."
He has been going around Watertown collecting signatures on a petition to put an item on the City Council's agenda to consider creating a historic district in the stretch of Main Street where the project is proposed.
"What we are doing is trying to get this dedicated as a historic district: from the Asian restaurant (Ginger Express) at 98 Main St. up to 224 Main St. — across the street from Saltonstall Park (on one side), and then from the Fire Station up through Saltonstall Park," Younger said. "That is what we are suggesting."
Younger needs to collect 150 signatures to get the item on the agenda, but plans to get more than that. He expects to present the petition to the City Council at the May 24 meeting. He left a copy of the petition at the Crown Cafe.