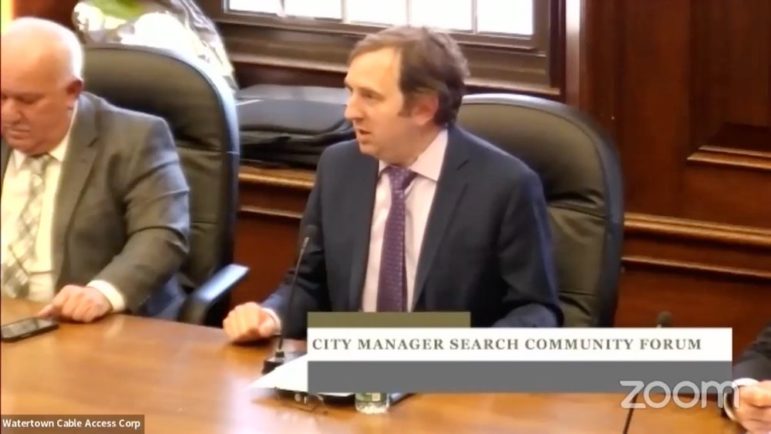 George Proakis, Watertown's next City Manger, will start working in August, after an agreement on a contract was reached with the City Counil this week.
The City Council unanimously voted to approve hiring George Proakis on Tuesday night. At the previous meeting, on May 24 the Council agreed to offer Proakis the job and enter contract negotiations.
The Council met in executive session prior to the June 14 public session to discuss the contract and came to an agreement which includes a salary of $217,500, said Council President Mark Sideris. The final vote on the contact will be made at the June 28 meeting.
Proakis succeeds Michael Driscoll as Watertown's chief executive. Driscoll retired at the end of January. Proakis, who is currently the City of Somerville's Executive Director of the Office of Strategic Planning & Community Development, will begin working in Watertown on Aug. 15, 2022, Sideris said.
"All I can say is I am pretty excited that we are moving in a new direction here after 29 years of excellent management by Mr. Michael Driscoll," Sideris said. "I can't say enough about him, but he is no longer here with us in this position and we are going to move on, and I think the community is going to be pretty excited when we get to work with George."
Resident Jimmy Mello commended the Council on its decision.
"I want to thank and congratulate the Council for appointing and entering into contact with George Proakis. I came to all the public interviews, they were great candidates but I found him to be outstanding like the Council did," Mello said. "I think this will be a new future for Watertown. I congratulate the Council and also think you need to plan a meet-and-greet so the people of Watertown can get to meet him."
City Budget Approved
The Council approved the Fiscal Year 2023 Watertown Budget on Tuesday night. The vote was unanimous on the $174.79 million budget, which was first presented on April 26 by acting City Manager Tom Tracy.
The budget includes several new positions including:
A Police sergeant and a civilian clerk to help the department with the Peace Officers Standards and Training (POST) standards
An eighth captain for the Watertown Fire Department who will be in charge of lab safety inspections and oversight of life science companies
A Conservation Agent for the Community Development and Planning Department
The Department of Public Buildings will add a project manager position
A children's librarian
The Recreation Department will add a second recreation supervisor
See more information on the FY23 budget by clicking here.
Auditor Retiring
Also, Tuesday, Tracy, the longtime City Auditor who served for the past few months as acting City Manager, announced that he would be stepping down later this year.
After the budget was passed, Sideris thanked Tracy for running the FY23 budget process.
"I want to take this opportunity to give a special thank you for Tom Tracy. This will be his final budget," Sideris said. "He put in his notice that he will retire on Oct. 15, and I can't thank Tom enough on behalf of this community, and I believe this Council, for all that you have done to get us through and get us a nice clean fiscal year '23 budget and continue on like nothing ever changed here.
"I want to thank the Treasurer (Melissa Morrissey), acting Deputy City Manager Steve (Magoon) and others who have also been helping us, but this is a special night for Tom. I think we owe Tom a huge thank you for getting us to this point."
The Council approved $14,000 to be spent on the search for a new City Auditor on Tuesday night.