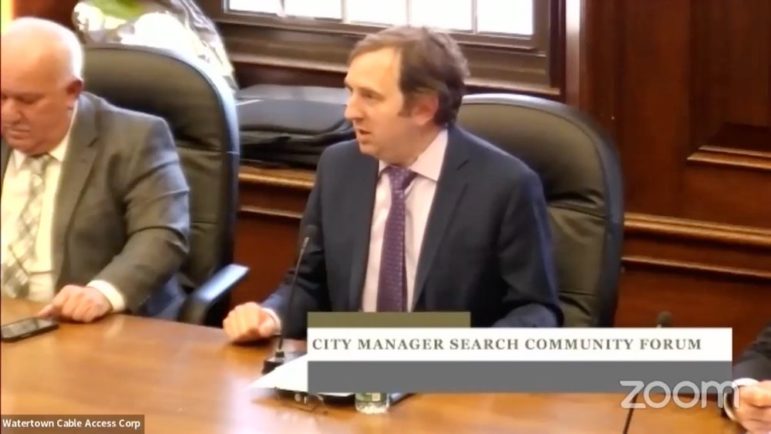 The City Council unanimously voted to appoint George Proakis as Watertown's next City Manager on Tuesday night. He will succeed Michael Driscoll, who retired in January after 29 years in the position.
The selection of Proakis was no surprise, with a majority of the Councilors indicated they favored him over the two other finalists after interviewing them on May 12.
Proakis will be coming from the City of Somerville, where he has been the Executive Director of the Office of Strategic Planning & Community Development for the past 3.5 years, and was the director of Planning and Zoning for nearly 9 years. He also worked in the City of Lowell's planning department for 8 years.
The other two City Manager finalists were Hopkinton Town Manager Norman Khumalo and Billerica Town Manager John Curran.
Council Vice President Vincent Piccirilli made the motion to appoint Proakis as City Manager.
Council President Mark Sideris said be believes Proakis is the best fit.
"I will be supporting this motion because I believe Mr. Proakis provides what this City is looking for today," Sideris said. "Given all the things we have gone through with the Charter Review and all the issues raised through that and other processes I think that he will be able to guide us through."
Councilor Lisa Feltner said that Proakis' experience with planning and community development will be key.
"He is the best candidate, particularly at this time in Watertown with all the growth that we have experienced and are going to experience," Feltner said. "He seems to understand our form of government well, with the special relationship with the Council President. As well as, he his very open to collaboration across board, with the public, staff, the council — getting to know councilors. I'm really excited and I hope the residents are excited, too. I heard from a lot of them who are excited."
Councilor John Airasian said he liked what he heard from Proakis during the interviews.
"Using some of the words that Mr. Proakis used, focusing on data, guiding the community through change, making sure the values of the community are involved in that change," Airasian said. "And, to me, he was the most prepared, along with (what we heard from) the Charter Review, I think he fits the bill for what the people of Watertown want and what the future of Watertown is looking for. So, I am happy to support this."
Councilor John Gannon said he has worked with all three finalists at different times and to different degrees through his work as a city and town attorney.
"I spent more time working with George Proakis when we worked for the City of Somerville, I as City Attorney and he as Director of Strategic Planning and Community Development Department," Gannon said. "I noticed working with him directly and observing him, his larger picture thinking, his preparation for this interview, and I know he inspired both employees within his command as well as worked well with others."
After the unanimous vote, Sideris said that the Council will begin discussion of the parameters which they will look for in a contract with Proakis in executive session (behind closed doors) Tuesday night. Negotiations and a vote on the contract will take place in executive session, too, Sideris said.
The City Manager search was "rigorous," Sideris said. The City, working with consultants from Community Paradigm Associates, put out a job posting and received 23 applications for the City Manager position, Sideris said. The Screening Committee narrowed the pool down to three finalists.
Multiple councilors noted that they were impressed with all three finalists.
"The other two candidates were wonderful as well, but I feel Mr. Proakis is the best fit in what we need at this time and moving forward," Feltner said.
Gannon said: "We were blessed to have three amazing finalists. I can only imagine the other applications that the screening com saw. I wish to thank the Screening Committee."
The Committee was made up of Sideris, Piccirilli and Councilor Caroline Bays, as well as Assistant City Manager Steve Magoon, Superintendent Dede Galdston, and resident members Felicia Sullivan and Daniel D'Amico.