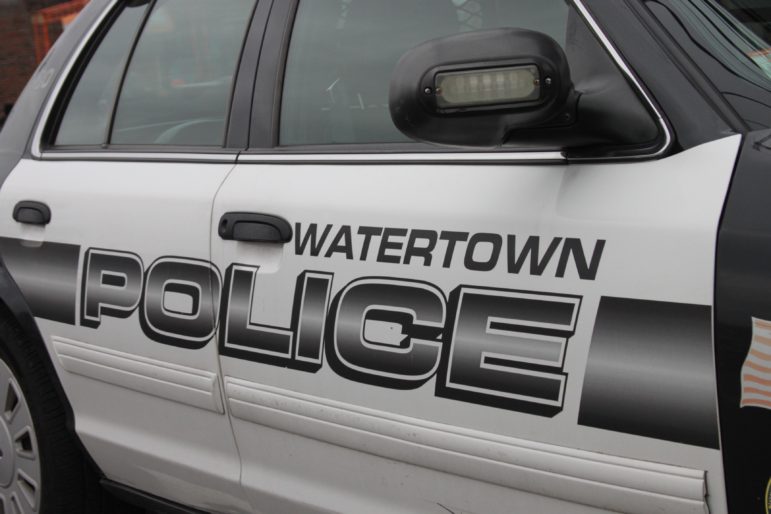 The following information was provided by the Watertown Police Department.
NOTE: This report includes two weeks of arrests and incidents.
Arrests
July 18, 4:36 p.m.: An officer patrolling in Watertown Square spotted a vehicle running a solid red light on Mt. Auburn Street and then turned onto Charles River Road. The officer ran the vehicle's plates and found the owner's license was revoked for not having insurance, and also learned the driver did not have a license and was wanted on a warrant. The warrant was for traffic offenses out of Boston District Court. Khaled Alhammadi, 39, of Boston, was arrested on charges of unlicensed driving, driving an uninsured motor vehicle, driving with a revoked registration, operating an unregistered vehicle, a red light violation, as well as the warrant.
July 21, 8:55 a.m.: On July 19, a woman was driving down Mt. Auburn Street when she switched lanes. After doing so, another driver pulled behind her and then went around her and began screaming at her. She became frightened and moved over to the other lane, but the other driver continued to drive aggressively, and follow her. When she tried to go straight across Watertown Square from Mt. Auburn Street the other driver forced her to turn right by angling his car toward hers. He also screamed unrecognizable words at her. She then made a right on Whites Avenue and the man continued to follow. She stopped at the stop sign at Summer Street and Whites Avenue. The man then threw something at her car and the driver heard something hit her vehicle. She got out to see if there was any damage, and as she stood next to her driver side door the man drove toward her vehicle. The woman tried to get out of the way, but the man ran over her foot and ripped her sneaker and sock off. She was also knocked to the ground. The man made a U-turn in the intersection and drove back in the direction the woman at a high rate of speed. The woman was able to get a photo of the vehicle as it drove away and she called police. The woman was not seriously injured, but suffered an abrasion on her foot. Police were able to identify the man, and officers were told to look out for the man. On July 21 at about 8:45 a.m., an officer spotted the man's vehicle parked on the 600 block of Mt. Auburn Street and the man inside. Theodore Simpson Jr., 33, of Boston, was arrested for assault with a dangerous weapon, reckless operation of a motor vehicle, leaving the scene of an accident involving an injury, and was cited for blocking an intersection. Police also requested that the Registry of Motor Vehicles immediately suspend his license because he operated his vehicle recklessly.
July 23, 6:26 p.m.: An officer patrolling on Galen Street heard a loud noise coming from a Honda sedan. and saw that it had heavy front-end damage. It appeared to have been in a collision. The driver was pulled over, and when asked what happened he said he did not know. Nearby, two parked vehicles were damaged. The driver was asked about those vehicles, and he said he didn't remember hitting anything. The man showed signs of impairment, and admitted to drinking alcohol before driving. He did not pass four field sobriety tests. Norayr Sargsyan, 47, of Newton, was arrested for driving under the influence of alcohol — a second offense, and marked lanes violation.
July 25, 8 p.m.: A man ran a red light in Watertown Square and was pulled over by police on Charles River Road. The officer discovered the driver's license had been suspended and there was a warrant out of Brighton District Court for leaving the scene of an accident with property damage. Geremiah Aponte, 20, of Boston, was arrested on a charge of driving with suspended license and a red light violation, along with the warrant.
July 31, 9:23 p.m.: A man who had a warrant for his arrest came into the Watertown Police Station to turn himself in. Eric Knott, 31, of Watertown was wanted on a warrant issued by the probation department at the Waltham District Court.
Incidents
July 18, 8:49 a.m.: A vehicle parked at a home on Prospect Street was vandalized. The owner parked her 2016 Ford Explorer in her driveway at 10:30 p.m. on July 17, and when she came out at 7 a.m. on the 18th the front and back left tires were flat. She saw puncture marks on the tires. The estimated cost to repair is $500. Police are investigating.
July 18, 5:12 p.m.: The manager of Best Buy reported that two juvenile males had been seen shoplifting. They walked in at about 4:50 p.m., went to the Apple section and took two iPhones from the display — an iPhone 13 Pro valued at $1,300 and an iPhone 13 Pro Max that cost $1,500. The two juveniles left the store, got into a dark-colored minivan, which appeared to be waiting for them, and left the Watertown Mall. The suspects appear to be between 12 and 14 years old, and are either white or Hispanic. One had black and brown hair, and wore a white T-shirt and white and black striped shorts. The second youth had black and brown hair, and the top of his hair was colored orange, and he wore a flowered T-shirt and light blue and grey shorts.
July 19, 6:58 a.m.: A Cypress Street resident got up in the morning and observed a first-floor window completely ajar and the screen had been removed. The window had been left unlocked. The intruder went into one of the bedrooms, which had not been occupied that night, and rummaged through it. A drawer had been left on the floor, and cash was missing. Outside the house, the resident found a patio chair near the window that had been found ajar. The resident told police that he thought he heard a noise between 2 and 3 a.m. Police are investigating.
July 19, 8:22 a.m.: The owner of a Toyota Prius parked in her driveway at 5:30 p.m. on July 18, and came back on July 19 and realized her catalytic converter was missing. It is valued at $1,000.
July 20, 7:41 a.m.: A Maplewood resident reported a stolen catalytic converter. She attempted to start her car at 6:30 a.m. and heard a strange noise. The car was parked there on July 18.
July 20, 2:30 p.m.: A resident from Longfellow Road reported that he was not able to get a deposit back on a home construction project. In 2021, the man entered into a contract with Pointe Custom Homes LLC, and work was supposed to begin in June 2021. The company owner said he was tied up with other projects, and he never started the work. The homeowner asked for his deposit back, but never received it. Later, he learned the company had been dissolved in June 2021. Police summoned the owner of the company, a 38-year old Braintree man, to Waltham District Court for larceny over $1,200 by false pretense.
July 20, 5:56 p.m.: A man was seen taking a laptop from Best Buy. An employee reported that a Microsoft Surface 8 Pro laptop valued at $1,100 was missing from the store display. When the employee looked at the security video it showed a man take the laptop, put it in a backpack, and leave without paying. The suspect is described as a Black male, wearing light blue shirt, tan pants, and white shoes.
July 22, 6:53 p.m.: A bicycle was stolen from Arsenal Yards. The owner locked the bike in the rack between the Majestic Theaters and Home Depot. He went into Home Depot for about 20 minutes and when he returned the dark green Giant brand bike was gone. It is valued at $750.
July 23, 9:35 a.m.: A Hersom Street resident said his neighbor intentionally damaged his vehicle. He showed police surveillance video that showed the neighbor pulling next to his vehicle in the shared driveway, parked very close and then opened the door several times into the resident's vehicle causing dents and scratches. Police summoned the neighbor, a 61-year-old Watertown man, to Waltham District Court on a charge of malicious damage to a motor vehicle.
July 24, 11:20 a.m. A Repton Circle resident parked his motorcycle in a parking spot on July 12 at 6 p.m. He returned on July 22 at 7:30 p.m. and found that the motorcycle was gone. The blue 2022 Honda is valued at $5,000.
July 26, 11:40 p.m.: Someone spray painted the letters "SOMO" and "DSR" on the playground equipment at Arsenal Park. It is not clear when the vandalism occurred. It was cleaned up by the Department of Public Works.
July 27, 3:45 p.m.: Target security spotted a man and woman come into the store and take six 12-packs of Dove soap. The man concealed the soap in a bag while the woman appeared to keep lookout. Security approached both of them and they fled the store. The soap was worth $51.99.
July 28, 6:25 p.m.: A moped was taken from a home on Prentiss Street. The owner parked behind the building on July 27 at 6 p.m. and the next morning at 6:15 a.m. she noticed it was missing. She reported the moped missing. Then a friend found the moped on Dewey Street on Aug. 1. It was on the street and the license plates had been removed and were left on the ground. The moped's kick starter had been broken.
July 28, 7:15 p.m.: A Coolidge Avenue resident left a bike in the underground garage on July 27 at 9 p.m. and at 7 a.m. the next morning it was gone. The silver Fiji Rakan was not locked. It has purple pedals and hand grips, and is valued at $1,850.
July 29, 1:33 p.m.: A Springfield Street resident reported that the catalytic converter had been cut out of her Toyota Prius. She parked it at noon on July 28 and came back at 11 a.m. on the 29th and discovered the damage. The same day, at 3:17 p.m., police went to York Avenue (a nearby street) for another stolen catalytic converter. The owner parked in his driveway on July 28 at 6:15 p.m. and at 7:30 a.m. the next day he found the catalytic converter had been stolen.
July 31, 9:46 a.m.: A vehicle was broken into on Marsha Road. The vehicle had been parked there on July 30 at 10 a.m. and was left unlocked. The break-in was discovered on July 31 at 9 a.m. The vehicle had been rummaged through and a dash camera valued at $130 was taken.
July 31, 10:30 a.m.: Two vehicles were broken into on Bailey Road, which is near Marcia Road. The vehicles were parked in the driveway of a home, and left unlocked. From one of the vehicles, $700 in cash was missing, along with a leather wallet. The second car was rummaged through, but nothing was reported missing.
July 31, 11:30 a.m.: Seven headstones were damaged at St. Patrick's Cemetery. They appeared to have been intentionally pushed off their base and left either face up or face down. It is not clear when the incident occurred, but likely sometime overnight. The Archdiocese of Boston is working on contacting relatives of the people whose graves were vandalized, and repairing the headstones.