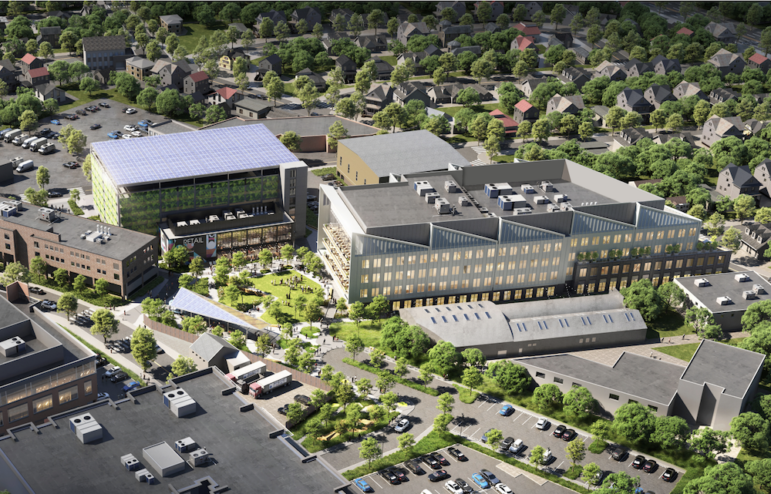 The developers of the proposed project on the Cannistraro site on Rosedale Road will hold a community meeting on March 20. The project includes multiple life science lab buildings and a garage on the Westside property.
Click here to see the documents submitted to the Planning Department (scroll down to Click Here for Applications, Reports, Plans, and other project documents).
Dear Community Member:
Please join Broder (www.broder.com) for a presentation of its plans to redevelop the site at 275 & 313 Pleasant Street, 80 Rosedale Road, and 60 Acton Street. The site will be transformed into a vibrant life science/office campus with a complementary retail component. The campus has been designed to actively invite residents to enjoy thoughtfully landscaped publicly accessible green space, bicycle paths, and pedestrian connections, all proximate to the Charles River Greenway.
We will be hosting an interactive meeting at the Council Chambers at Watertown City Hall (149 Main Street) on Monday, March 20th at 6:30 p.m. We hope you are able to join us for the presentation and look forward to your comments.
For ease of access, the meeting will be conducted in a hybrid format to accommodate both in-person and virtual attendees. For those using Zoom, just prior to the start of the meeting, please access the link below to join via computer or mobile device. You may be instructed to download the Zoom application. The project team will also attempt to secure a live broadcast spot with local cable access TV. If none are available, project team will record and make it available through local cable access TV for on demand viewing.
Meeting Date: Monday, March 20, 2023
Meeting Time: 6:30 PM to 8:00 PM
Meeting Place: Council Chambers at Watertown City Hall and virtually, via Zoom meeting
URL: https://bit.ly/broder-community-mtg
(Note: if typing, use all lowercase)
Meeting ID: 899 7007 0395
Passcode: 02472
Telephone Dial-in 646) 558-8656
First-time Zoom help: https://support.zoom.us/hc/en-us/articles/360034967471-Quick-start-guide-for-new-users
Project Contact:
Kai Vernstrom, Director of Acquisitions
Broder
kai@broder.com – (617) 292-2009