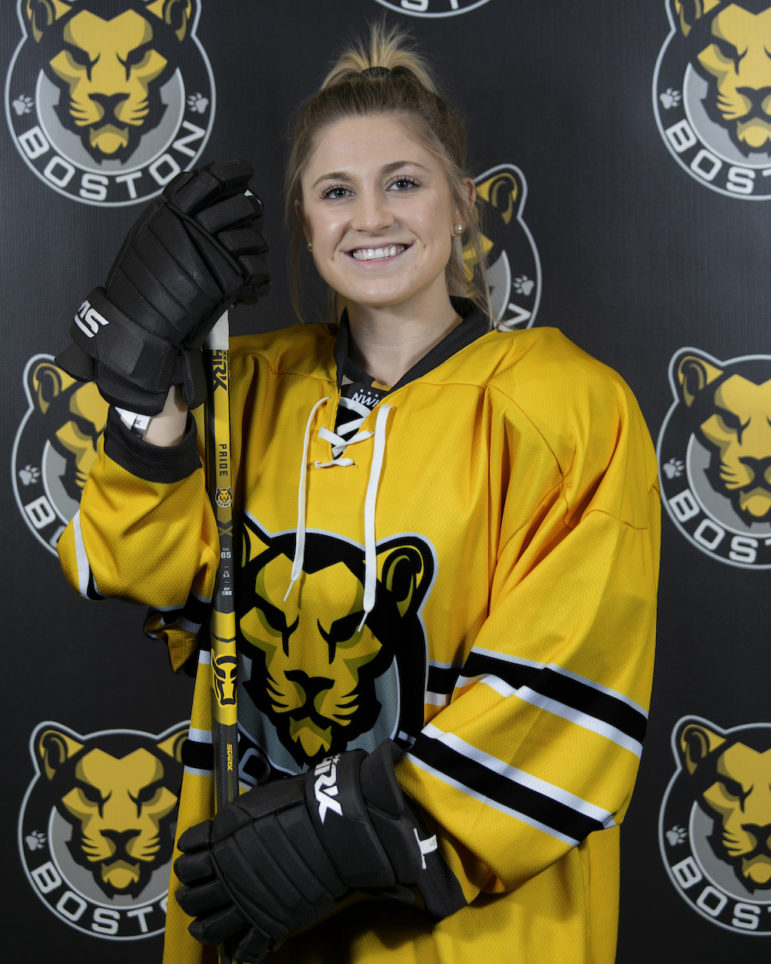 The following announcement was provided by the Premier Hockey Federation:
The Premier Hockey Federation (PHF) has announced that defender Lauren Kelly of the Boston Pride has been selected as the Denna Laing Award recipient for the 2022-23 regular season. The award was determined by Denna and her family and goes to the player who most exemplifies the qualities of perseverance, sportsmanship, and dedication to the sport.
"Selecting the winner of this year's Denna Laing Award was extremely difficult because there were many deserving candidates, each traversing their own adversity with relentlessness and a positive attitude," said Laing. "This year's winner, Lauren Kelly, has garnered the respect of her coaches, teammates, opponents, officials, and fans. After suffering a season ending injury before the year even began, Lauren battled back in therapy and continued to show up for practices and games even though she couldn't be on the ice. I think this dedication to the sport and the team makes Lauren a quintessential teammate as well as the perfect candidate for this award. Everyone faces adversity to some extent, but not everyone can adapt to a different role and gracefully excel as Lauren has this year. For these reasons, Lauren stood out to me and my family and we are happy to name her this year's Denna Laing Award winner."
Kelly re-signed for a fifth PHF season and was to be an integral part of Boston's blue line during the 2022-23 campaign but suffered a devastating ankle injury during the preseason that required surgery and kept her out of the lineup entirely. She maintained a positive attitude while embracing her unexpected role on the team, and her commitment to supporting her teammates never wavered as she pushed beyond her limits during rehabilitation with the goal of getting back on the ice.
"This season I was challenged mentally and physically in a way I had never been before," said Kelly. "I relied on my family, friends, and my Pride family to get me through the hard times during recovery. I'm grateful to have had all of the support throughout the season. My goal for this year was to be the best teammate I could be. I wanted to be a consistent positive voice in the locker room, and support the team the best I could.
"When I was announced as a finalist for the Denna Laing Award, I was so honored and humbled," added Kelly. "Denna has been an inspiration to me since I was 11 years old playing for the Assabet Valley girls program and has been continuing to inspire me since. Denna choosing me for this award was a very special moment for me, and to be recognized by her and her family means the world."
The 26-year-old from Watertown, MA was selected by the Pride in the fourth round of the 2017 draft. She signed with the team after graduating from Northeastern University in 2018 and has recorded 19 points in 63 career regular season games. Kelly has also appeared in six career playoff games and helped Boston win back-to-back Isobel Cup titles in 2021 and 2022.
"Lauren is an excellent teammate who consistently displays a positive attitude and a team first mentality," said Pride captain Jillian Dempsey. "After suffering a season ending injury, she worked incredibly hard to recover and showed perseverance and determination. Lauren was dedicated to our team throughout. Congrats to Lauren on this well-deserved honor!"
This is the fourth time that the award recipient is a member of the Pride, dating back to the inaugural 2015-16 season when it was the Perseverance Award and was presented to Denna Laing months after she suffered a severe spinal cord injury while playing for Boston in the league's Outdoor Women's Classic. Dempsey was both a 2017-18 and 2018-19 recipient of the award re-named in honor of Laing, with other winners including Ashley Johnston of the Riveters in 2016-17, Saroya Tinker who was recognized during her rookie season with the Riveters in 2020-21, and Elena Orlando of the Beauts in 2021-22. All PHF teams submitted candidates for consideration as finalists for this year's award including Buffalo's Lovisa Berndtsson, Connecticut's Mallory Souliotis, Metropolitan's Kaycie Anderson, Minnesota's Jonna Albers, Montreal's Ann-Sophie Bettez, and Toronto's Breanne Wilson-Bennett.
About the Premier Hockey Federation
The PHF is the home of professional women's hockey in North America. Established in 2015 as the National Women's Hockey League, the NWHL rebranded to become the PHF in 2021 and provide opportunities for elite athletes to earn a living playing the game they love while fueling the continued growth of the sport. The league is made up of the Boston Pride, Buffalo Beauts, Connecticut Whale, Metropolitan Riveters, Minnesota Whitecaps, Montreal Force, and the Toronto Six who all compete annually for the Isobel Cup. As part of a two-year agreement with ESPN, live coverage of the 2022-23 and 2023-24 PHF seasons is available exclusively on ESPN+ in the United States, and provides international rights for games which includes TSN in Canada. For more information visit premierhockeyfederation.com.