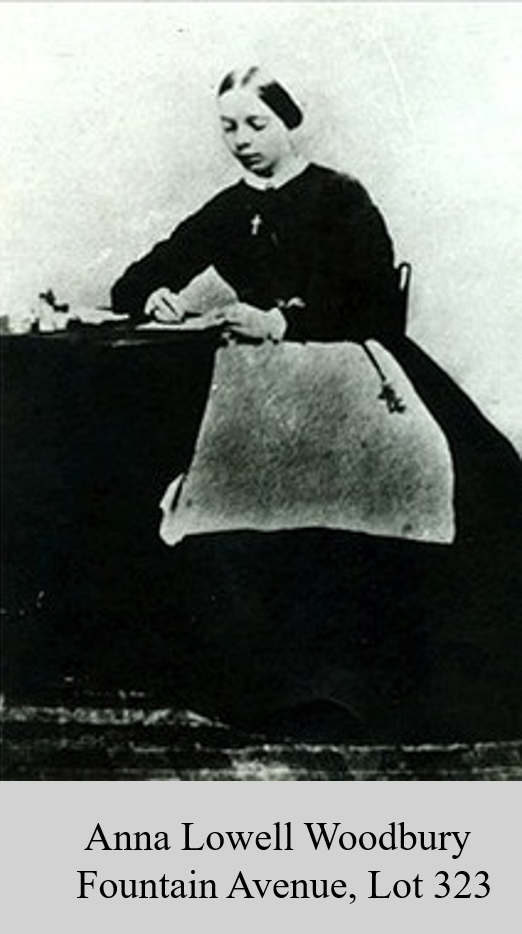 By Bill McEvoy
In honor of National Nurses Week, local historian Bill McEvoy has compiled histories of some of the Civil War nurses who are buried at Mount Auburn Cemetery. This is part five of seven.
Anna Cabot Lowell Woodbury was the niece of poet James Russell Lowell, and sister of Lt. James Jackson Lowell and Brig. General Charles Russell Lowell.
In the early summer of 1862, having recently been trained as an Army nurse, Anna was assigned to the hospital ship Daniel Webster on the James River.
When she arrived at Harrison's Landing, Virginia in June 1862, she continued her work despite news that her brother James had been killed in the Seven Days Battles during the Peninsula Campaign. James Jackson Lowell was mortally wounded at Glendale on June 30, 1862; he was interred near the battlefield. After the war, Anna brought his body home for burial in the Lowell family plot at Mount Auburn Cemetery.
In September 1862, she traveled south to Washington, D.C., where she first served as a nurse at the Union Hotel Hospital in Georgetown. She arrived at Armory Square in October 1862 and served there until August 1865.
Nurses assigned to Armory Square Hospital worked under Army regulations, and Dorothea Dix, Superintendent of Union Army Nurses, was in charge of Armory Square. Dix was a strong-willed person who often ignored orders, and her perseverance gave her the nickname Dragon Dix.
Anna's brother Charles Russell Lowell was mortally wounded at the Battle of Cedar Creek on Oct. 19, 1864.
Two days later Anna went to the office of Secretary of State Edwin M. Stanton, searching for news about her brother. There she learned of Charles' death directly from his fellow officer General George Armstrong Custer. Charles' wife was Josephine Shaw Lowell, philanthropist, and sister of Colonel Robert Gould Shaw, commander of the 54th Massachusetts, U.S. Colored Troops, who lost his life at the Battle of Fort Wagner in South Carolina on July 18, 1863.
Armory Square Hospital badly needed the services of Anna Lowell; therefore, she did not attend her brother's funeral in Cambridge with the rest of her family. Charles' death was announced in the hospital newspaper, the Armory Square Hospital Gazette. Anna remained in the overwhelmed Armory Square Hospital wards while the rest of her family mourned in Cambridge.
Find the gravesites of the Civil War Nurses by entering their name here: https://www.remembermyjourney.com/Search/Cemetery/325/Map Bill McEvoy can be reached at billmcev@aol.com