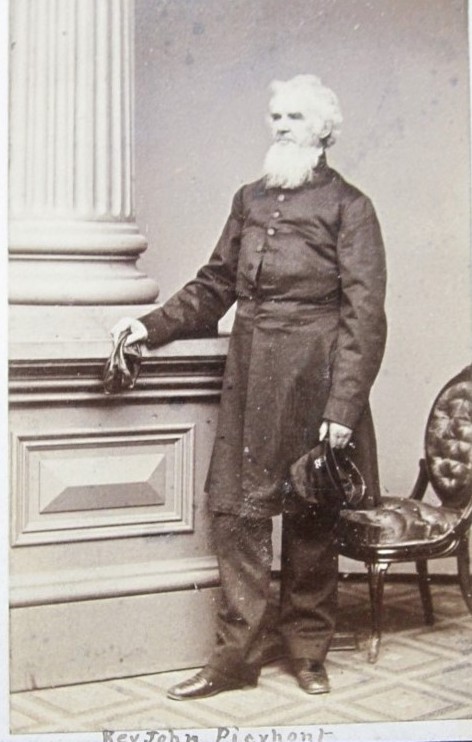 (NOTE: The story was updated on May 27, 2023)
By Bill McEvoy
In honor of Memorial Day, local historian Bill McEvoy has compiled histories of some of the Civil War clergy who are buried at Mount Auburn Cemetery. This is part eight of 15.
Reverend John Pierpont was born on April 6, 1785, at Litchfield, Connecticut. He died on August 27, 1866, at Medford, Massachusetts, from heart disease.
He graduated from Yale in 1805 and went to South Carolina and acted as a private tutor to the family of Colonel William Allston.
In 1809 he returned to Litchfield to study law and was admitted to the bar in 1812. He practiced for a time at Newburyport, Massachusetts.
He found that profession proved injurious to his health, and he relinquished it to engage in business as a merchant, first in Boston and then in Baltimore.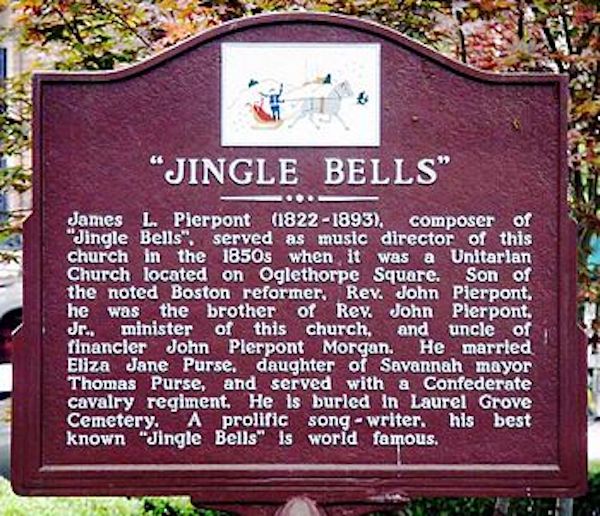 In 1816 abandoned commerce for theology which she first studied at Baltimore and next at Cambridge at divinity school. In that year he wrote the poem "The Airs of Palestine"
In April 1819, he was ordained as Pastor of the Hollis Street Church in Boston. In 1835 he made a tour through Europe and Asia Minor. On his return, he resumed his pastoral charge in Boston until May 10th, 1845. His to next four years as a pastor in Troy, New York.
From 1849 to 1858, he was the pastor of the First Parish Unitarian Church in Medford, Massachusetts, until April of 1856. He was a zealous advocate for temperance and anti-slavery movements.
During the 1840s, he ran for governor as a member of the Liberty party, and in 1850 ran for Congress as a member of the Free-Soil party.
When the Civil War began even though he was 76 years old, on October 8, 1861, he enlisted, as a Field Chaplain, in Company S, of the 22nd Massachusetts Regiment Infantry. He resigned on November 5, 1861, lacking the strength to discharge his duties.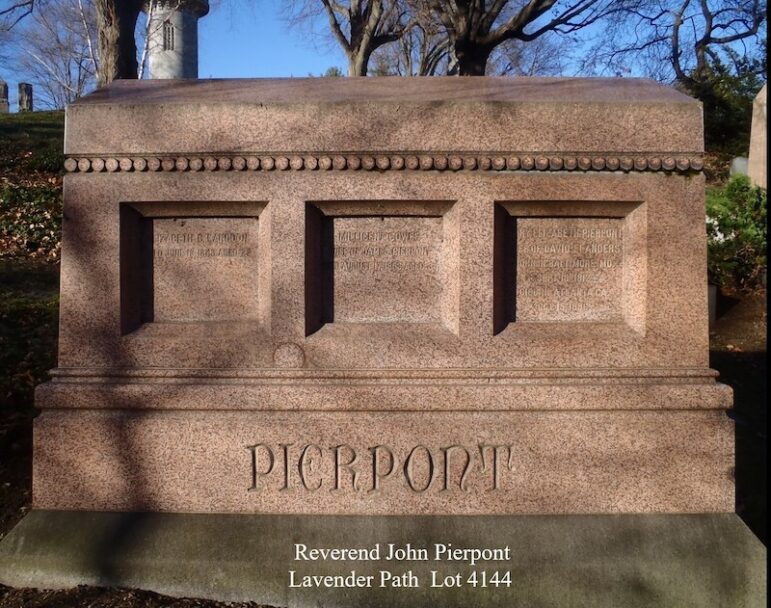 Reverend Pierpont was appointed a clerkship in the Treasury Department in Washington which he held until his death.
Reverend Pierpont was the grandfather of J. P. Pierpont. His son, James Lord Pierpont wrote "Jingle Bells" originally titled, "The One-Horse Open Sleigh"., at age 14.
In 1856, his brother Reverend John Pierpont went to Savanah, Georgia to be Pastor of a Unitarian Church. His brother, James, having recently lost his wife, went with John to be his organist.
In 1860, John returned to Medford due to the unrest in the South. James remained in Savanah as in 1857 he married the daughter of Savanah's Mayor.
During the Civil War, James served as an officer in First Georgia Cavalry. He survived the war.
Find the gravesites of the Civil War Clergy by entering their name here: https://www.remembermyjourney.com/Search/Cemetery/325/Map Bill McEvoy can be reached at billmcev@aol.com