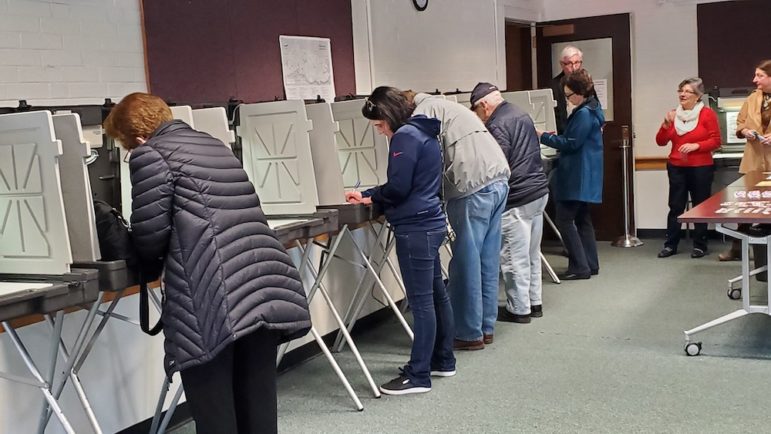 Two races will pique the interest of Watertown voters in the 2023 Municipal Election on Tuesday, Nov. 7: the School Committee and City Council President.
Polls will be open on election day from 7 a.m. to 8 p.m. (see polling locations below). Follow Watertown News for election results.
School Committee
Five people seek a seat on the Watertown School Committee in 2023. The three candidates with the most votes will fill the three spots on the board for the next four years.
Two incumbents seek re-election this fall, Kendra Foley and David Stokes, while three challengers are running for their first term: Jen Nicholson, Lisa Capoccia and Rachel Kay.
The candidates appeared at a Candidate Forum hosted by Watertown News and Watertown Cable last month. They also responded to a series of questions. See what they said and how to watch a replay of the forum by clicking here.
City Council President
The race for City Council President features the current and former holders of the office. The position is the highest elected position in the City of Watertown. The President chairs the City Council, and also sits on the School Committee.
Mark Sideris, who has been Council President since 2009 faces challenger Clyde Younger who served as Council President from 1997-2004, and 2006-2009.
Both candidates appeared in a pair of televised forums, and also responded to questions from Watertown News. See the forums here and read the candidates' responses to the questions by clicking here.
See the other Election 2023 stories, and the candidate endorsement letters by clicking here.
Other Offices on the Ballot
While Watertown residents will have two contested races in which to cast their vote, several other candidates appear on the ballot. The races for the eight other City Council seats and the three Board of Library Trustees have just enough candidates to fill the seat, but no more.
There are no state offices or ballot questions to vote on during the Nov. 7 election
Here are the other candidates on the 2023 Ballot:
City Councilor At-Large
Anthony Palomba
John Airasian
John Gannon
Caroline Bays
District A City Councilor
Nicole Gardner
District B City Councilor
Lisa Feltner
District C Councilor
Vincent Piccirilli
District D Councilor
Emily Izzo
Board of Library Trustees
Maja Young
Theodore Kokoros
Sarah Murphy-Holroyd
Polling Locations
See where to vote in the 2023 election. The precincts changed in 2021, so if you have not voted in a few year your precinct may have changed. See more here.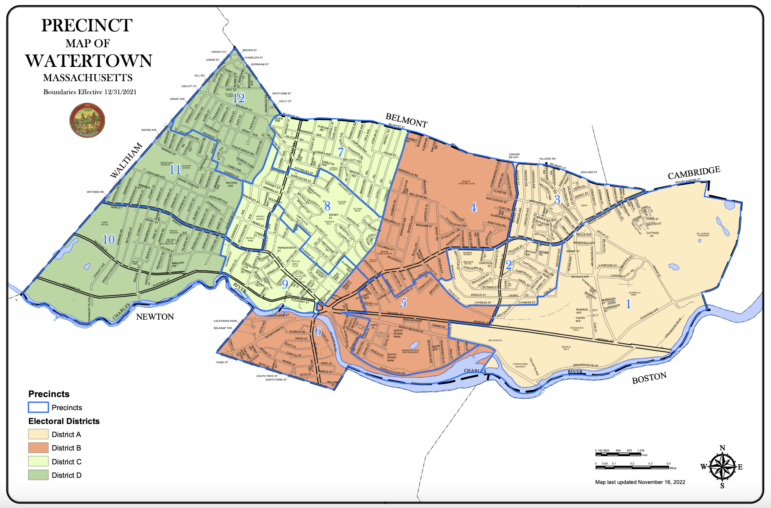 To check what precinct you are in, and who is on your ballot, enter your address on the Secretary of the Commonwealth's website (click here).
2023 City Election Precinct Locations in Watertown
| | | |
| --- | --- | --- |
| 1 | Hellenic Cultural Center | 25 Bigelow Ave. |
| 2 | Hosmer Elementary School | 1 Concord Road |
| 3 | Hellenic Cultural Center | 25 Bigelow Ave. |
| 4 | Phillips School | 30 Common St. |
| 5 | Phillips School | 30 Common St. |
| 6 | Hibernian Hall | 151 Watertown St. |
| 7 | Watertown Middle School | 68 Waverley Ave. |
| 8 | Watertown Middle School | 68 Waverley Ave. |
| 9 | Watertown Middle School | 68 Waverley Ave. |
| 10 | Watertown Police Station | 552 Main St. |
| 11 | Cunniff Elementary School | 246 Warren St. |
| 12 | Cunniff Elementary School | 246 Warren St. |