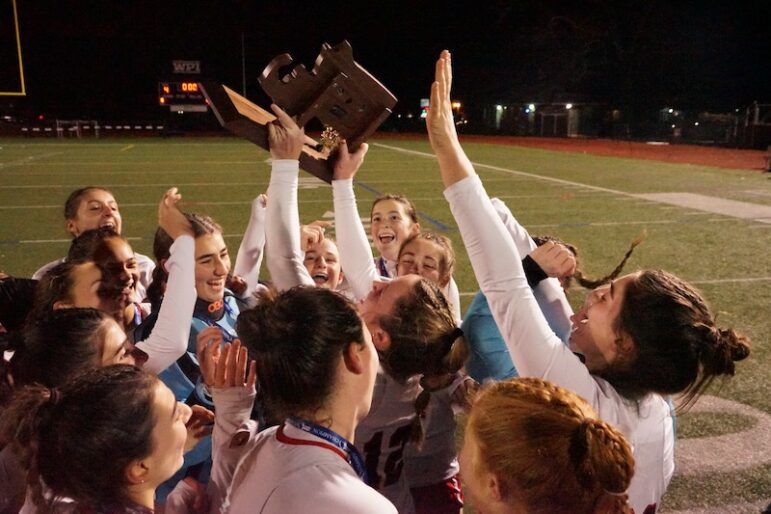 Watertown High School's field hockey team has been streaking towards the program's 21st State Championship in 2023. A win in Saturday's MIAA Div. 3 State Final would give the Raiders their 75th straight win, third straight title, and if they shut out Newburyport the team would extend its national record shutout streak to 42.
The final is scheduled to begin at 5 p.m. at Worcester Polytechnic Institute. Watertown News will provide live updates from WPI, return to this post.
LIVE UPDATES
Fourth Quarter
Raiders win 4-3
3 minutes left – Watertown keeps pressure up.
6:29 left – 2 more Watertown corners, shot goes just wide
9:12 left – Clippers stop 2 corners
11:37 left – Raider shot goes just wide
13:59 left – Early corner, and Driscoll scores. Hat trick. Raiders 4-3
Third Quarter
End of 3rd – Watertown 3, Newburyport 3
1:27 left – Watertown shot goes just wide after 2 Clippers corners
6:39 left – Newburyport passes way up field and Morgan Valeri ties it at 3
10:23 left – Molly Driscoll scores!, Raiders up 3-2
12:04 left – 2 corners for Raiders. Shot goes just wide on 2nd
13:52 left – Newburyport ties it on a long strike by Woekel
Second Quarter
Halftime Watertown 2, Newburyport 1
The Clippers Delaney Woekel ended the Raiders shutout streak
2 mins left – Watertown attack turned back multiple times
5:38 left – Clippers score on corner.
6:55 left – Newburyport stops 2 corners, takes it down for one if it's own. Watertown stops it
12:30 – 2 good Watertown attacks were stopped
First Quarter
End of First – Watertown 2, Newburyport 0
2:12 left – Clippers get corner. Watertown stops them, and another attack
5:30 left – Aislin Devaney scores on a corner. 2-0 Watertown. Newburyport calls timeout
9:30 left – 2 Corners for Watertown. Newburyport degends them
13:49 left 1st. Goal Watertown! Molly Driscoll!
5:05 pm. Z Just played the Anthem
Raiders Led by Prolific Scorer
Throughout the 2023 season, the ltop-seeded Raiders (21-0) have been led by Watertown's all-time leading scorer, Molly Driscoll. The Boston University-bound senior broke the record with her 147th goal by scoring a hat trick the Elite Eight game against Dennis-Yarmouth. When she scored the milestone goal, eclipsing 1998 graduate Jane Rodgers' mark, Driscoll didn't have any special celebration.
"I didn't know," Driscoll said. "I was just kind of trying to do my job to score goals."
She wasn't totally oblivious, and learned following the game from Watertown Head Coach Eileen Donahue (see the video here).
"It was really exciting. I kind of had a hint at it because Miss Donahue had mentioned it a couple days prior," Driscoll said. "Other than that it was just in the back of my head. I wasn't really focused on it really, it was really just who as a team is going to show up and we are just going to play together, and that's the main goal."
Junior Rachel Egan, who scored the lone-goal in the Semifinal, said Watertown's run of streak has been built on staying focused on the game at hand.
"We take each game by game," she said. "We're not underestimating any team, just going in to it being confident and not being too cocky about it."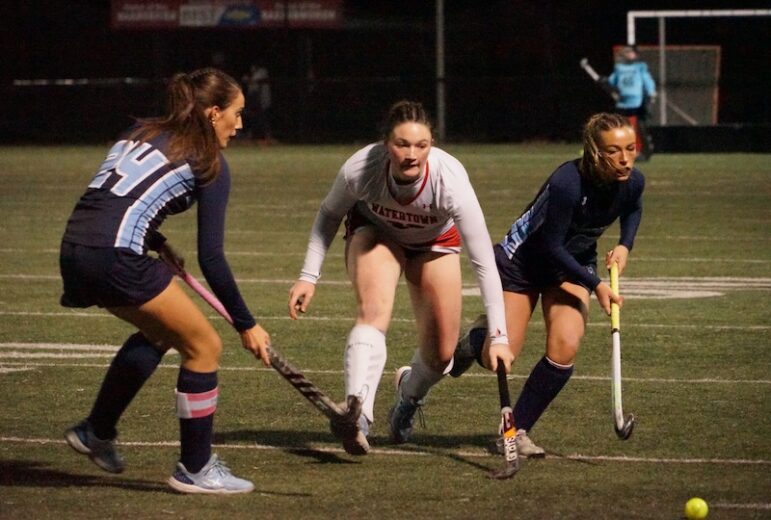 Driscoll's eight tournament goals leads the Raiders offensively, junior Caroline Andrade has scored four goals, junior Nola MacKenzie has found the net three times, junior Rachel Egan scored a pair of goals, and junior Adrianna Williams, freshman Regan Driscoll and junior Victoria Dicker each have a goal apiece.
Watertown goalie, senior Ava Husson, has rarely been tested (she has faced three shots thus far in the tournament), but she has been up to the challenge every time.
Newburyport
Saturday's game will not be the first time the Raiders have faced Newburyport. In 2014, Watertown defeated the Clippers 4-0 in the 2014 North Section quarterfinal.
Second-seeded Newburyport (21-1) is playing in its first ever field hockey State Final, after reaching the Final Four in 2022 and 2023. Donahue said she expects a tough game from the Clippers.
"Newburyport is a very strong team. They just had the big with over Dover-Sherborn," she said. "We've got our work cut out for us."
The Clippers has an experience team, with 12 seniors on the roster. Senior Morgan Valeri has five goals in the tournament, and senior Delaney Woekel scored both goals in Newburyport's 2-1 overtime victory over Dover-Sherborn in the State Semifinal.
State Final tickets can be purchased here.
Watertown's State Final History
Watertown will be playing in its 23rd field hockey state final. Only twice did the Raiders return home without the championship trophy, in 1999 against Greenfield and 1996 against Bellingham.
The Raiders have emerged victorious in their the last 13 State Finals, including a pair of titles against Sandwich in 2021 and 2022. If the game goes to overtime, Watertown has won all five finals that went to extra sessions — most recently in 2001.
Eleven times Watertown has shut out its opponent in the final, including the last two years.
WATERTOWN FIELD HOCKEY TITLES
State Championships: 1986, 1988, 1989, 1990, 1992, 1994, 1997, 2001, 2002, 2009, 2010, 2011, 2012, 2013, 2014, 2015, 2016, 2017, 2021, 2022.
WATERTOWN FIELD HOCKEY STATE FINAL HISTORY
2022 Watertown 2, Sandwich 0
2021 Watertown 1, Sandwich 0 (2OT)
2017 Watertown 5, Oakmont 1
2016 Watertown 4, Oakmont 3
2015 Watertown 6, Auburn 0
2014 Watertown 5, Auburn 0
2013 Watertown 1, Auburn 0
2012 Watertown 1, Oakmont 0
2011 Watertown 3, Oakmont 1
2010 Watertown 1, Auburn 0
2009 Watertown 1, Auburn 0
2002 Watertown 2, Greenfield 1
2001 Watertown 3, Nipmuc 2 (OT)
1999 Greenfield 2, Watertown 1 (OT)
1997 Watertown 2, Greenfield 1 (2OT)
1996 Bellingham 4, Watertown 3
1994 Watertown 5, Quaboag 0
1992 Watertown 3, Nauset 1
1990 Watertown 2, Bellingham 1 (OT)
1989 Watertown 5, Sandwich 0
1988 Watertown 1, Quaboag 0
1986 Watertown 2, Milton 1