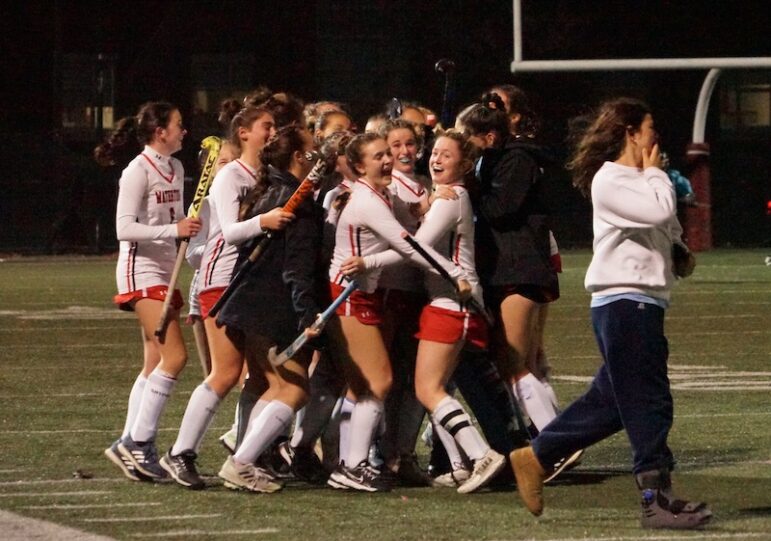 HINGHAM — In a battle of heavyweight field hockey programs, Watertown emerged victorious, 1-0, after a 60 minute struggle in the MIAA Div. 3 State Tournament Semifinal that went down to the final moments Wednesday night.
For the third straight year, the Raiders battled Sandwich deep into the tournament. In 2021 and 2022 the clash came in the State Final, and this year it came one round before.
While the Raiders led in shots, 8-2, and had more corners, the difference on the scoreboard was just one. Junior Rachel Egan made the most of an opportunity when it arose with about a minute left in the second quarter.
"It was just a scrum in front of the net, but I just happened to be there at the right time to poke it in," Egan said. "It was a great team win. Very exciting."
At the half, Watertown dominated the offensive categories, with four shots on goal compared to zero for the Blue Knights.
Before Wednesday, the closest game that Watertown played in 2023 was 5-0 (against St. Mary's and Stoneham). The Blue Knights clamped down on Watertown's all-time leading scorer, senior Molly Driscoll, but others stepped up.
"It definitely seemed like they were double playing me and marking me, which is tough," Driscoll said. "But it was good though because we have players, not everything is centered around me, and they can do it. And they can carry the play themselves which is great to see, like Rachel Egan, Aislin Devaney, Adrianna Williams along with some others, like Caroline Andrade. All (of them) had great games today, which was really what pushed us over the edge and kept us going in this game."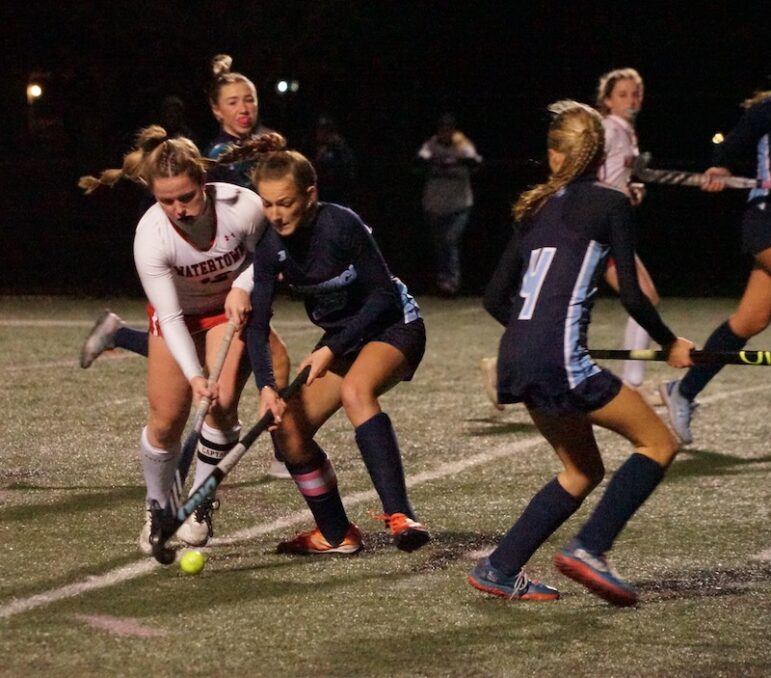 Watertown Head Coach Eileen Donahue breathed a sigh of relief after the game.
"We are very fortunate to get through this, we know that," Donahue said.
In the second half, particularly the fourth quarter, Sandwich ramped up the offensive pressure and got some corners. Driscoll said that she believed her team could come out on top.
"I was confident in our team, we were all confident in ourselves. We knew we could do it. It was just a matter of if we were going to do it, who was going to show up today to play and we all did. We all showed up to play. We were all hungry," Driscoll said. "Congratulations to Sandwich on a great run because they gave us a run for our money, and I honestly think that game could have gone either way if we didn't really hone down our defensive skills."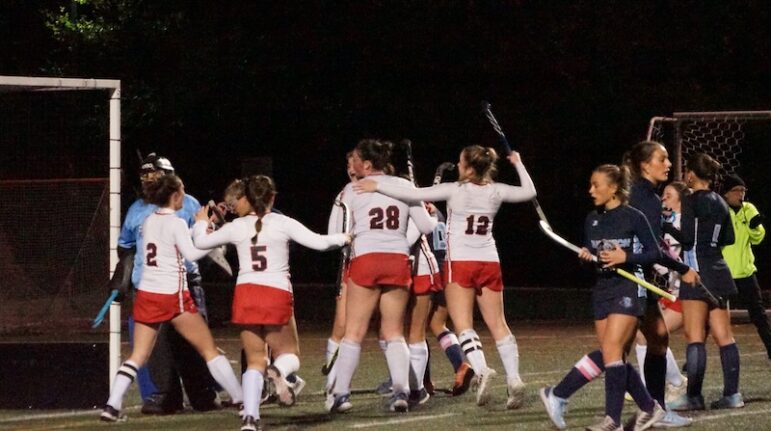 Of the three games against Sandwich, Egan said the first, in 2021, was the toughest because it went to double overtime.
"But, I'd say this was definitely a hard game, especially in the last quarter," Egan said. "It was just a fight to get it out but we were able to get it out and get the win."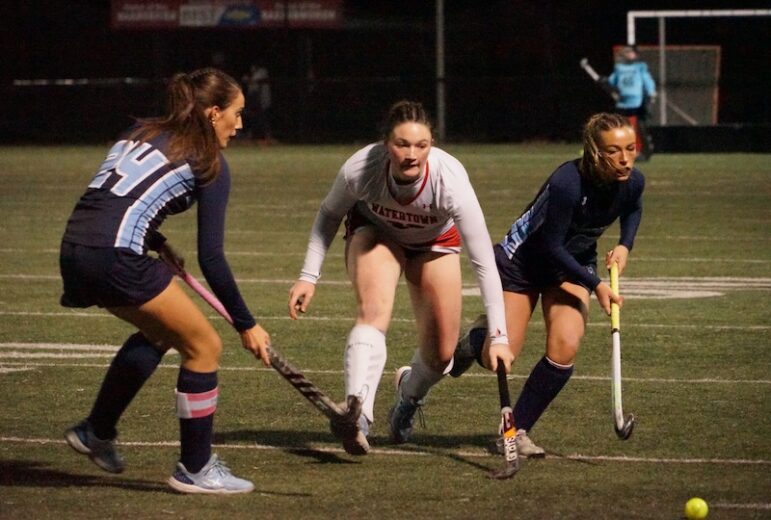 The Raiders' ability to play a tight game pleased Donahue.
"You are hoping that with everything we practice that you have enough confidence to play how you are supposed to play in these situations," Donahue said. "The girls played confidently though. That's what I noticed today. As well as we've done this year, that's not always the case and all of them out there seemed to be playin very confidently."
Watertown survived and moved on to the ultimate game, the Div. 3 State Final against Newburyport at WPI at 5 p.m. on Saturday, Nov. 18. The Raiders, now 21-0, extended their winning streak to 74, and kept its national record shutout streak going. It now stands at 41.