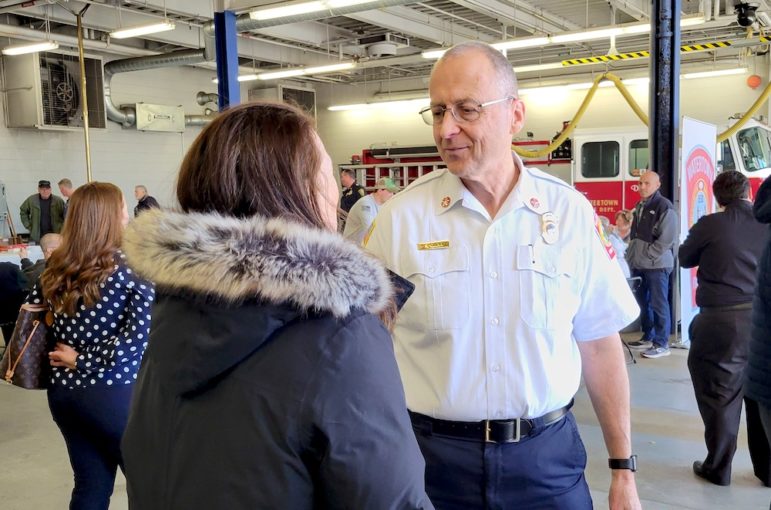 Fire Chief Bob Quinn headed into retirement at the end of April having helped modernize the Watertown Fire Department, pushed for increased firefighter safety, and endured the deaths of two close colleagues.
On April 29, 35 years to the day after he became a firefighter Quinn retired as Watertown Fire Chief. A celebration was held in the engine bay at Watertown Fire Headquarters, instead of at a hall or restaurant, because Quinn said he wanted to bring back an old tradition.
He held the top job officially for about 4.5 years, but Quinn was in a position of leadership for more than a year before officially being promoted to Chief. His term as chief was shorter than his predecessors. Since the first full-time chief, John W. O'Hearn, was appointed in 1912, most Watertown Fire Chiefs have served more than a decade, with the next shortest being nine years.
Losing Friends
For many years, becoming chief didn't seem to be in the cards for Quinn. When Chief Paul McCaffrey announced his retirement Quinn took the exam, but decided to withdraw his name from consideration because he decided he would rather stay "on the shift" working as a deputy chief. Mario Orangio was appointed Fire Chief in February 2024.
"I knew at the time he was way younger than me and it's not like he was going to retire before me, he came on after me and was going to retire after me, most likely," Quinn said. "When he got sick and that meant he was going to retire I decided to step in and fill the void."
In late 2016, Orangio told members of the Fire Department he had cancer.
"He missed a lot of time. We didn't have an acting chief at the time, he was coming in when he could," Quinn recalled. "We were in constant contact with him, I was the senior deputy and I worked with the other deputies to try to keep the department flowing and pushing forward for him."
In May 2017 Orangio announced to the City Council he would be retiring, and officially retired on Oct. 14. The following day, Quinn became Provisional Fire Chief. Orangio passed away a few weeks later at the age of 51, and his funeral was held in November at St. Patrick's Church.
In his 35 years, Quinn went to many fires and emergencies. He had been to bigger ones, such as the 10 alarm fire in Revere in around 1990 when nine triple-decker houses burned down, a fire in Waltham that struck five apartment buildings under construction, or a three alarm fire in 2016 which badly damaged multiple businesses on Main Street. But the one that sticks out was a relatively small one that occurred the same year as Orangio's death.
"Obviously, probably the worst day of my career was March 17, 2017, when Joe Toscano died," Quinn said. "He and I worked together for 13 years as a deputy chief and aide."
Quinn added. "I have been on a lot of small ones, a lot of bigger ones. It's just crazy, you never know. We had that fire on March 17 on Merrifield and the Monday before that I was off and they had a small fire that morning off of Main Street. And Joe Toscano texted 'Oh, you missed one today.' I said, 'Oh, I hope everybody is safe.' Then that day we go to a car accident and we went to a fire and then he's dead, and it's like holy cow!"
Honoring Toscano became a priority for Quinn. He asked for the intersection closest to the location of the fire, Merrifield and Bigelow avenues, to be dedicated in Toscano's name. On the first anniversary of his death, a sign marking Joseph Toscano Square was unveiled. Each year the WFD holds a ceremony at the location to mark the anniversary.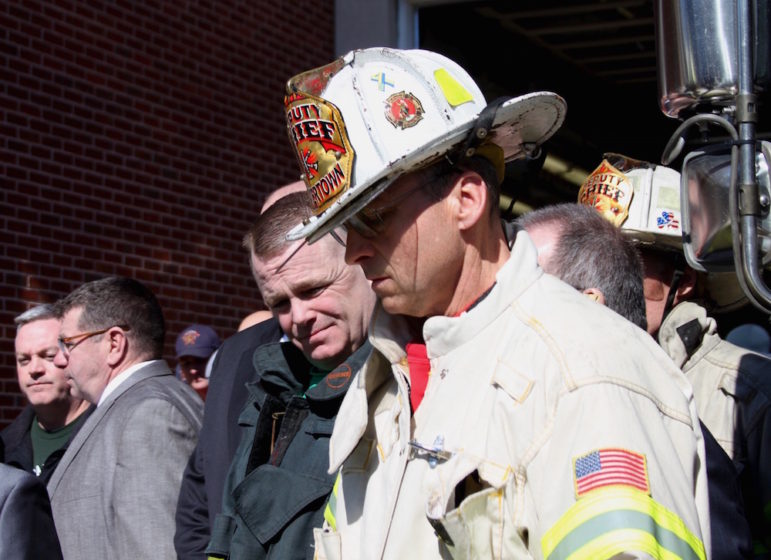 He also keeps in regular communication with Toscano's wife and children, saying he wants to make sure that they still feel like they are part of the Watertown Fire Department family.
Along with Toscano, Quinn also wanted to honor the other four Watertown firefighters who died in the line of duty. In April 2022, the WFD held a ceremony honoring the fallen firefighters and unveiled five plaques that were placed on the front of Fire Headquarters on Main Street.
"That was really important for the department to have all five of those names in front of the building, people who lost their lives while trying to protect the Town," Quinn said.
Initiatives
When he became chief, Quinn made it a priority to improve the health and wellness of Watertown fire fighters. One step was to get uniform washers, called extractors, and dryers for all three fire stations and to get a second set of gear for each firefighter.
"They found that without washing the gear, all the soot and the particles get into the gear and when you finish a shift you hang it in the locker, and in course of the shift it dries out," Quinn said. "You go out on a call, a fire, put the gear on, you start sweating, and anything still in the coat gets absorbed right into the skin."
The soot and chemicals can cause cancer, Quinn said, so this is an effort to reduce that risk. Cancer has been a problem for firefighters, and Quinn noted that Orangio and McCaffrey both died from cancer. The WFD also brought in a dermatologist to do skin cancer screenings to try to catch it early.
He also put a focus on healthy eating and lifestyles, and brought in a company to evaluate the fitness of firefighters, teach about which exercises to do and about nutrition, as well as how to deal with sleep deprivation. This can be a problem with firefighters because they are on 24 hour shifts and may be awakened numerous times at night to respond to calls.
Quinn also made a push to improve the Watertown Fire Department's technology and equipment. He recalled that when he joined the WFD in 1987, everything was done with paper and pencil. Now, every fire vehicle has an iPad which can be used to call up information remotely. Soon the iPads will be able to hook up to the cloud.
"While they are on the way to the scene they can take the iPad, pull up the address, see if there is anything special about the place that they need to know and they have the information right away," Quinn said.
Previously they had to call in on the radio to get the information, Quinn said. The new system will also allow the WFD to update information instantly as they are doing building inspections.
Quinn credited City officials for funding timely replacement of fire vehicles, renovations of Station 3 on Orchard Street, and the current project to upgrade the radio system used by the Fire Department, Police Department and the Department of Public Works. The new system will include new transmitters and receivers around the City, and will allow two channels to be used at once. This comes into play during a fire or other extended incident, when they still have to deal with other calls — often with out-of-town firefighters covering during the incident. Those can now be moved to a different channel.
Family Tradition, Of Sorts
Quinn joined the WFD on April 30, 1987. His family has a long tradition of service to the Town of (and now City of) Watertown, but when asked if he always wanted to be a firefighter, Quinn said: "Not really."
"I kind of got interested in it because — my wife — her brother and father were firefighters in Brookline and her brother really talked up the job and just talking to him about the job I really gained an interest," Quinn said. "I took the test and came on."
His family has worked for the Town or City of Watertown for more than 130 years. His father was a police officer, his grandfather worked for the DPW for almost 40 years, and his great-grandfather worked for the DPW for 50 years. When he retired in 1940 his co-workers chipped in and bought him a 1941 Chevrolet, and the flagpole in front of the DPW facility is dedicated in his name: Patrick Quinn.
"So, I am a fourth generation Watertown employee," Quinn said. "And my great-great-grandfather was a soldier at Watertown Arsenal in the Civil War. He was a U.S. soldier (rather than a Massachusetts soldier)."
Quinn looks back fondly on his time on the Watertown Fire Department.
"I've experienced so many different things through my career: so many different calls and situations," Quinn said. "The amount of people I've been able to help, that's why it is rewarding and fulfilling for me personally. We have good people here at the Watertown Fire Department."
The Fire Department has a mandatory retirement age of 65, but Quinn will retire before reaching that age. He said he could have kept going a couple more years, but the past few years dealing with COVID have been trying.
When the Pandemic hit in March 2020, he would be on the phone with Police Chief Michael Lawn several times a day, the Watertown Emergency Management Team met daily, and sometimes he would receive updated regulations from the state Office of Emergency Medical Services multiple times a day.
"I'd be putting out a memo at 10 in the morning and I'd be putting out another memo at 2 in the afternoon and maybe another memo before I left," Quinn said.
Staffing became a challenge because if one member of a shift tested positive, the others who he or she works with at their fire station all had to quarantine. Plus, they had to change how they responded to medical calls. They avoided going into homes if possible or sent in the minimum number of firefighters to deal with a situation to reduce exposure.
Quinn said he is happy to see the Fire Department and the world starting to move out of the COVID-19 Pandemic as he heads into retirement.
"I'm sad in some ways to leave but happy to move on to the next chapter in my life," Quinn said. "And I have some exciting things coming up in my personal life and I'm looking forward to that."
Around the same time that Quinn decided to retire, he got some good family news.
"In the fall my daughter is expecting and I am going to become a grandfather. I am going to assist her and her husband with anything they need me to do," Quinn said. "It's my first grandchild. We don't know what it's going to be. We are pretty excited about that. … That's my major plan."