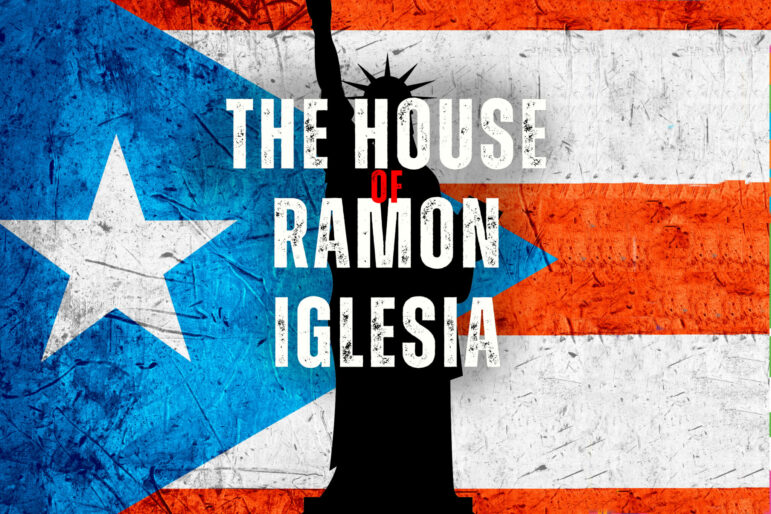 The following announcement was provided by Moonbox Productions:
Moonbox Productions is thrilled to present The House of Ramon Iglesia by Jose Rivera at the Mosesian Center for the Arts in Watertown, MA. Directed by Arthur Gomez, The House of Ramon Iglesia opens on April 14th and runs through April 30th. Tickets are $55 general admission/$45 seniors and $20 student rush ½ hour prior to performance and are available at https://bit.ly/HouseofRamon. Pay-What-You-Can tickets are available at the door (Box Office fees may apply).
It's 1983, and the Iglesia family is caught between two worlds. Aging and ailing, parents Ramon and Dolores are eager to leave their rickety house in New Jersey and return to their native Puerto Rico – but their three sons, all raised in America, are deeply divided on whether or not to go. Tough, genuine, and insightful, The House of Ramon Iglesia asks just as much as it answers. What do we owe our parents, and our children? What do we mean when we say "country", or "family", or "home"? As they struggle through gaps of language, age, and culture, will the Iglesia family find common ground? Or are their rifts too wide to heal?
The cast of The House of Ramon Iglesia includes Luis Negron (Ramon), Sara Burd* (Dolores), Lily Steven** (Caroline), Jaime Jose Hernandez (Javier), Mo Correa (Charlie), Dan Garcia (Julio), Matthew Zahnzinger (Nick), Tader Shipley (Swing – Caroline), and Johnny Gordon (Swing – Sons). *AEA, **SAG
"The House of Ramon Iglesia reminds us all of the importance of telling our stories: to help define who we are, to open up our different worlds to each other, and ultimately to reveal beneath our different experiences our deep and shared humanity," said Producer Sharman Altshuler.  "It is an honor to be bringing this beautiful piece of theater to Boston," said Altshuler.
The creative and design team includes Sharman Altshuler (Producer), Arthur Gomez (Director), Samantha Knox (Production Stage Manager), Kailey Bennett (Production Manager), Sean Watkins (Assistant Production Manager), Diego Farrell (Technical Director), Finn Bamber (Lighting Designer), Jessie Marasco (Production Electrician), Jessica Elliott (Production Electrician Mentor), Aubrey Dube (Sound Designer), Cameron McEachern (Set Designer), Abraham Rebollo (Props Designer), Olivia Dumaine (Intimacy Director), Kailey Bennett (COVID Safety Manager), Katie Smith (COVID Safety Assistant).
With each show, Moonbox Productions partners with a local non-profit, to raise awareness for their cause, create connections for them within the community, and increase the reach and impact of their work. For the production of The House of Ramon Iglesia, Moonbox will be partnering with Teatro Chelsea.
Teatro Chelsea is a Latinx artist lead program increasing arts access and equity in our community by producing Spanish language and bi-lingual theatre.
For more information regarding Moonbox Productions upcoming production of The House of Ramon Iglesia go to www.moonboxproductions.org.
About Moonbox Productions
Moonbox Productions was founded in 2011 by Producer/Artistic Director Sharman Altshuler. Based in Harvard Square in Cambridge, Massachusetts, Moonbox is dedicated to supporting local arts and local artists, and to connecting communities to the non-profit organizations that serve them. To fulfill their artistic mission, Moonbox taps the deep well of talent within their own communities to bring top quality theatrical experiences to stages throughout the Greater Boston area.  To fulfill their social mission, they partner with a local non-profit organization for each show, giving them visibility on their website and in their promotional materials, as well as giving them access to their audiences in order to raise awareness of their cause, create connections within the community, and increase the reach and impact of their work.