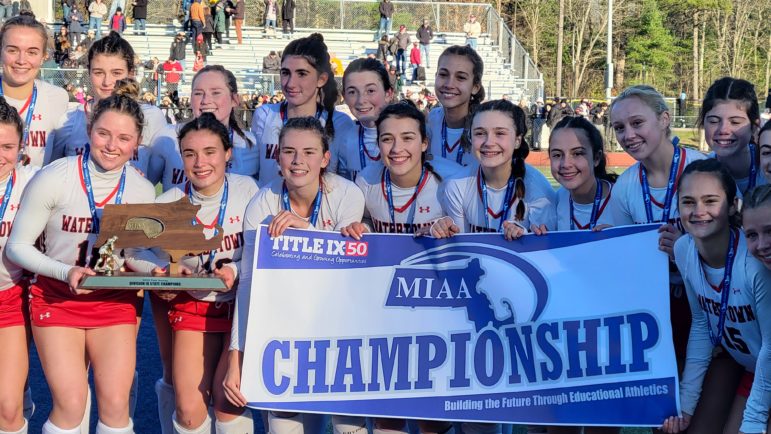 For the second year in a row, Watertown High School's field hockey team will face Sandwich in the MIAA Div. 3 State Final. The game will be played in Norwell beginning at 1 p.m. on Saturday, Nov. 19. Follow live updates here.
Fourth Quarter
Game over, Watertown wins 2-0
2:52 left, corner for Sandwich cleared
5:10 left, teams have been battling at midfield most of the quarter. Injury break for a Sandwich player. She walked off looking ok
6:52 left, timeout Sandwich
11:40 left, Sandwich has had most of the possession.
Third Quarter
End of 3rd, Watertown 2, Sandwich 0
1:11 left, Sandwich stops a Raiders' corner
4:58 left, Caroline Andrade scores off corner, Watertown 2, Sandwich 0. Raiders had multiple corners leading up to the goal
7:25 left, Watertown corner stopped
8:15 left, even quarter. No real scoring chances
12:37 left, Sandwich stops a Watertown corner
Second Quarter
End of second, Watertown defended 2 corners at the end of the half. Raiders up 1-0
1 min left, Sandwich pressuring
5 mins left, Sandwich can't get ball over halfway.
10:20 left, Watertown putting on pressure
13:17 left, Goal Allie Fijux! Watertown up 1-0
First Quarter
Quarter ends 0-0
4:30 left, Raiders put on pressure but no quality shots
11:30 left. Watertown defended 3 corners. No score
13:29 left Teams trade corners.
Game should start around 1:15 p.m.
Team warming up:
https://www.instagram.com/p/ClJuRjmsVcB/?igshid=MDJmNzVkMjY=
Preview
Last year, Watertown was the second seed, behind the Blue Knights, but in 2022 the seedings were flipped. Both teams enter the final undefeated, with the Raiders a perfect 21-0, and Sandwich 20-0-1.
Along with the quest for the school's 20th State Championship, the Raiders will also be looking to add one more win onto their current winning streak of 52 games.
Watertown brings back most of the same team that won the State title a year ago. The Raiders return senior Lizzie Loftus, the three-year co-captain who scored the sudden-death victory in the 1-0 double overtime victory. Loftus scored a hat trick against Ashland in the Round of 16. She is joined by fellow three-year senior co-captain Maggie Driscoll who scored two goals in the Tourney opener against Norwell.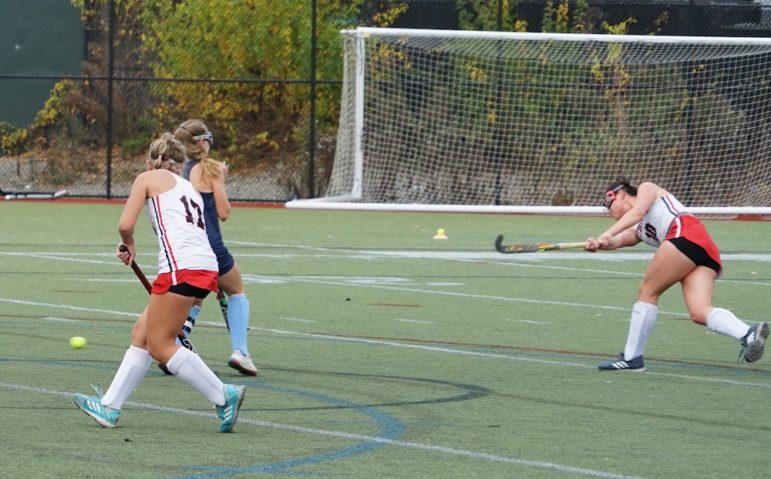 Loftus said she expects to have to "fight for everything" against Sandwich in the final. After Wednesday's victory, Driscoll said the team will be focused in the last few practices of the year.
"We are taking each of these practices as we have them, just preparing ourselves as much as we can, and trying to be our best during practice so that we can project into the game," she said. "We are going against a strong opponent in the final."
The Raiders' top scorer this year has been junior Molly Driscoll, who tallied four goals in Watertown's 6-0 State Semifinal win over Dover-Sherborn on Wednesday. She also had a hat trick against Triton in the Round of 8, two in the Round of 16 against Ashland, and a pair against Norwell in the Round of 32. After the State Semifinal, she said she looks forward to the State Final.
"Very excited. It should be good to go up against them," she said. "The whole team is really hyped for it. It should be a good one – a nice little rematch."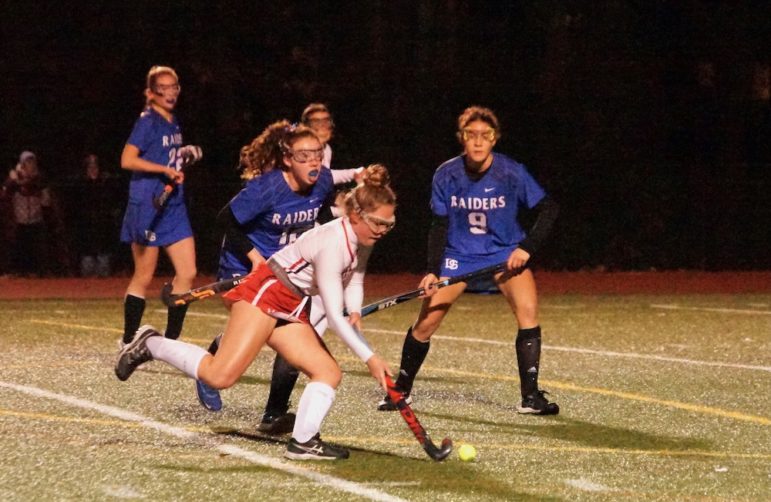 On the rare occasions that the opponent has offensive opportunities, senior goalie Brianna Cooper has been been up to the task. She has only allowed one goal, and that came against Div. 1 powerhouse Andover early in the season.
Sandwich brings in a different team from 2021, after six seniors graduated. Two of the Blue Knight's biggest contributors are young, including a pair of freshmen Quinn Jordan and Khloe Schultz. Jordan scored the winning goal late in the State Semifinal to defeat Newburyport 1-0 on Wednesday. Schultz led Sandwich with two goals in the 4-0 win over Swampscott in the Round of 8.
The Blue Knights also have some experience returning players, including senior co-captain Emily Souke, who scored four goals in the Round of 16 win over Medway. Senior goalie Ava Murray has not allowed a goal in Sandwich's run to the State Final.
The site of the State Final, Norwell High School, is located at 18 South St. in Norwell. Tickets can be purchased online at https://gofan.co/app/events/798416?schoolId=MIAA