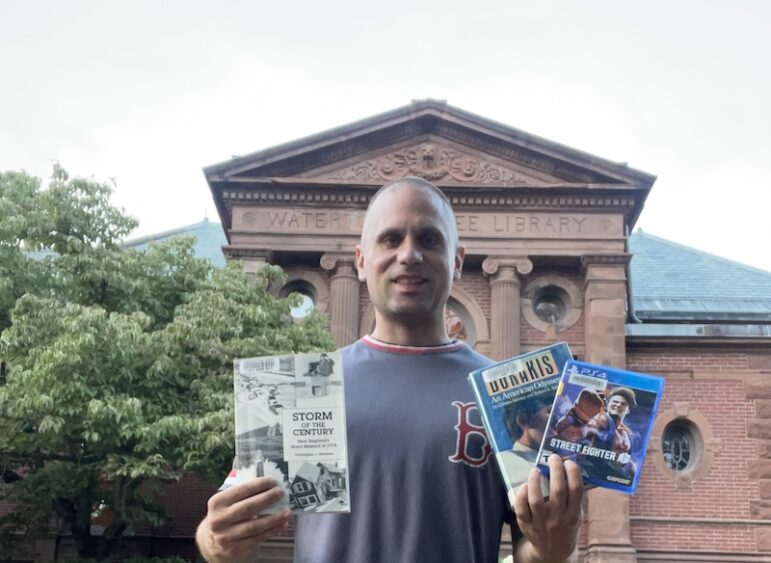 Dear Residents of Watertown,
My name is Theodore (Teddy) Kokoros and I am seeking reelection to the Watertown Free Public Library Board of Trustees.
I want to begin this letter by expressing my gratitude to all the staff at The Watertown Free Public Library for their unwavering dedication and hard work. I've constantly been impressed by their dedication throughout my initial tenure as a trustee. Over the past few years, we encountered unforeseen challenges, with the most prominent being the COVID-19 pandemic. During this difficult time, the Library staff exhibited exceptional efforts, becoming one of the first libraries in the state to reopen while demonstrating creative problem-solving through online programming and contactless pick-up services. Moreover, I wish to acknowledge that any achievements I've accomplished as a trustee, which I will elaborate on below, would not have been possible without the extraordinary library staff. I would also like to express my gratitude to the 100+ residents of Watertown who signed my nomination papers, enabling me to be listed on the ballot.
If you're interested in learning more about my biography, you can find it in the letter to the editor that I submitted to Watertown News in 2019 when I initially declared my candidacy for Watertown Free Public Library (WFPL) Trustee (Read the letter linked here). In 2019, I also authored a follow-up letter in which I discussed my goals as a WFPL Trustee.  (Read that letter linked here). I am happy to report that a significant number of those goals have been successfully achieved including starting The Collective Memory Project to preserve Watertown's history/photos, expanding The Library of Things, and bringing a BlueBike station across the street from the library. However, along with these and other accomplishments, new challenges and opportunities for the Watertown Library have also emerged. In the subsequent paragraphs, I will provide an overview of my tenure as WFPL trustee over the past four years and outline my primary goals as a trustee, should you elect me for a second term.
Since being elected, I have dedicated myself to serving as a diligent Watertown Library Trustee. During my initial two years on the library board, I fulfilled the role of the board's secretary, and in the subsequent two years, I assumed the position of the board's treasurer. Additionally, I took on the responsibility of chairing the first director search committee and co-chairing the Bookmobile fundraising committee. Through these fundraising efforts, we successfully raised thousands of dollars, enabling the purchase of Watertown Library's inaugural bookmobile, affectionately named "Speed Reader." This bookmobile has effectively extended the library's reach to all corners of Watertown's community over the past year.
Furthermore, I have actively participated in a multitude of events at Watertown City's hall. These include attending city manager interviews, where I inquired about candidates' experiences with libraries, advocating for library funding during city budget hearings, and voicing my support for the preservation of the elected position of Library trustee during charter review meetings. I also took part in library advocacy day at the statehouse, meeting with Representative Steve Owens to discuss how the state can offer support to the Watertown Library through funding and other means.
Engaging in community involvement, I volunteered at the Watertown Pride Extravaganza and attended numerous Library-sponsored events, such as Zine Fest, The Multicultural Fest, and One Book One Watertown. Additionally, I consistently promote library services and events through conversations with friends, family, and neighbors in real life, as well as through social media platforms. My ultimate goal is to ensure that everyone in our community is well-informed about the incredible offerings and happenings at the Watertown Free Public Library
One of my first big votes as a library trustee was to approve the policy for the Watertown Library to become 100 percent fine free. We were one of the first libraries in the state to do this and many other library systems including Boston, Brookline, and Cambridge followed suit. I believe that eliminating fines improves the library experience in a myriad of ways. By eliminating overdue fines, it can foster a more inclusive and accessible environment, encouraging individuals from all socio-economic backgrounds to freely access resources and knowledge. Fine-free policies promote increased library usage, as patrons are no longer deterred by the fear of accumulating fines. This, in turn, strengthens community engagement and promotes lifelong learning. Furthermore, research has demonstrated that fine-free libraries often witness improved return rates, leading to a more robust and up-to-date collection. Ultimately, embracing a fine-free approach fosters a welcoming and equitable space where the pursuit of knowledge knows no financial barriers and I am proud that The Watertown Free Public Library was one of the leaders in eliminating fines. (I want to take a moment to highlight the incredible variety of items available at the Watertown Library, all completely free of charge. Recently, I've borrowed a metal detector, books detailing Watertown's history, best-selling novels, award-winning indie films, big-budget blockbuster movies, and the latest video games. To access such a diverse range of items elsewhere, I'd likely have to spend a significant amount of money, enriching a CEU with a distinct Lex Luthor-esque vibe. However, at the Watertown Library, I can enjoy all of this and more without any cost. Now, let's return to the main content of the letter)
I've gained extensive insights into the functioning of libraries over the past few years, encompassing their distinctive opportunities and challenges. Drawing from my accumulated knowledge, research into libraries, and the valuable feedback received from both the Watertown community and library staff, I have identified 9 priorities areas (9 in honor of Ted Williams) to focus on should I be elected for a second term.
The Watertown Library Trustees recently voted unanimously to appoint Kim Hewitt as the next Director of the Watertown Free Public Library. I am eagerly anticipating the opportunity to collaborate with Director Hewitt, supporting her in realizing her ideas and vision, while also facilitating her deeper understanding of the Watertown community
Similar to numerous other communities, Watertown is confronting the confluence of a mental health crisis and substance abuse issues. Occasionally, these challenges find their way inside the library's premises. It is imperative for me to ensure that the library staff receives adequate training and support to effectively address these issues and carry out their duties safely
The library is a highly utilized building, and with changes in work patterns, people are increasingly utilizing the space as a secondary office. My aim is to collaborate with the library director and city hall to explore the possibility of adding another study room and study pod. In addition, I want to look for ways to make the library building as energy efficient as possible.
I envision great potential in repurposing the old Watertown Police Station, located adjacent to the library, as a permanent home for The Hatch Makerspace and potentially as a space for library programming. I will continue to advocate to city officials to realize this vision.
The Watertown Library has accomplished a remarkable feat in organizing various engaging programs to connect with its increasingly culturally, linguistically, and socioeconomically diverse community. I am eager to collaborate with the new library director and the dedicated staff to build upon this success and deliver a diverse range of events that not only reflect but also embrace the entirety of Watertown's vibrant community and use the bookmobile Speed Reader to bring the library into the community.
When faced with policy questions concerning programming and collections, I intend to use the American Library Association's 'Intellectual Freedom Manual' as a guiding resource to aid in making informed decisions along with feedback from the Watertown community
The current Strategic Plan of the Watertown Free Public Library extends until 2025. As we embark on the journey of revising this plan, I am eager to collaborate with Director Hewitt and my fellow trustees to gather extensive feedback from various sources, including the staff of Watertown Library, the local business community, and the residents of Watertown. Considering the rich linguistic diversity of Watertown, it is my aspiration to distribute surveys throughout the community in a multitude of languages. This approach aims to ensure that the library effectively caters to the needs of all residents.
The Watertown Library hosts an array of remarkable programs, none more crucial than Project Literacy, which offers free services to adults learning to read, write, or speak English in Watertown and neighboring communities. As a member of a family of immigrants who arrived in the United States during the 1960s-1980s, I understand firsthand the challenges faced by recent immigrants and the transformative impact of invaluable support systems like Project Literacy. With Watertown experiencing rapid expansion and attracting immigrants from diverse socioeconomic backgrounds worldwide, I am committed to ensuring that Project Literacy receives the necessary funding to continue its vital work.
Our community boasts a rich and storied history, but it is also experiencing rapid changes. I am eager to contribute to supporting and promoting Watertown Library's initiatives that document the city's history, including recent events, to ensure that future generations gain insight into the essence of our small city.
Sincerely,
Theodore (Teddy) Kokoros
Jensen Road