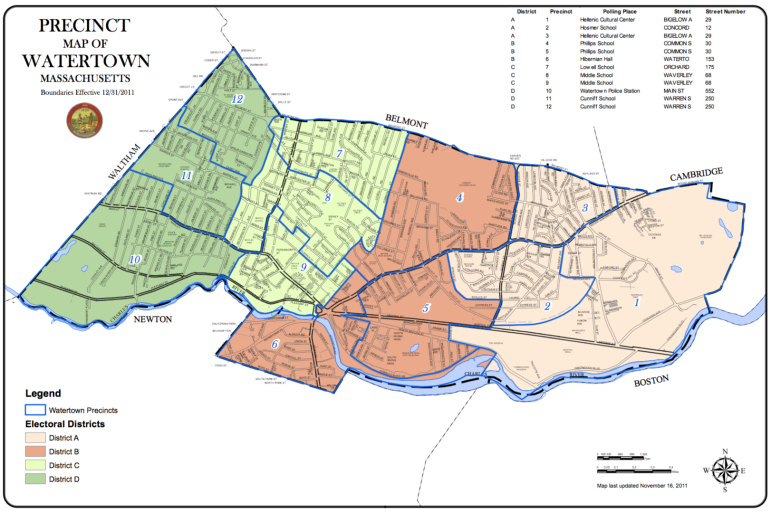 The Town of Watertown has four districts, each of which is represented by a Town Councilor. In the 2021 Watertown Election three of four districts have contested races.
See how each of the candidates responded to a variety of questions by clicking on their name under "Candidates" for each district.
District A
Represents the East End of town, District A includes the area of town east of School Street, including Coolidge Square, as well as some streets west of School Street that are between Walnut Street and Mt. Auburn Street.
In April, Councilor Angeline Kounelis announced in she will not run for re-election after 8 terms and 16 years representing District A. Two challengers are vying to represent the East End.

Candidates (in order that they appear on the ballot):
District B
This district includes most of the neighborhoods bordered on the west by Spring Street and Common Street (from Spring Street to the Belmont line) and School Street on the east. It also encompasses along the area south of Arsenal Street near Perkins School for the Blind, as well as residents living south of the Charles River.
District B has been represented by Lisa Feltner since 2015. This year Tiffany York is challenging her for the seat.
Candidates
District C
This district includes most of the areas east of Lexington Street (north of Main Street) and east of Bacon Street (south of Main Street); and west of Spring Street/Common Street.
Councilor Vincent Piccirilli has represented District C since being elected in 2007 and currently is Council Vice President. He is running unopposed in 2021.
Candidate
District D
This seat represents the West End of Watertown, including the areas west of Lexington Street (north of Main Street) and west of Bacon Street (south of Main Street).
The seat will have a new councilor. Ken Woodland represented the district from 2013 until he stepped down in April to take a job with the state that would not allow him to serve on the Council. The challengers are Emily Izzo and Connie Henry.
Candidates
For more information about the candidates watch the replay of the candidate forum co-hosted by Watertown Cable and Watertown News by clicking here: http://vodwcatv.org/CablecastPublicSite/show/1208?channel=1